This I Believe
June 5, 2017
The light turns on as I'm startled awake. I faintly hear my mom's voice say "Time to get up for swim" Groaning while rolling over to check my phone as I read 5:20 on the lock screen. Knowing I'm about to get picked up to drive to Sussex Academy I unwilling push off my warm covers and trade it in for a cold pool and practice with endless laps and endless yards. The people I carpool with drive up (Cooper and Parker) While thinking on the car ride there a memory passes my mind as I realize all of this hard work and dedication will pay off… and I believe it.

This memory was the one race that I saw the hard work pay off along with my dedication. I was Twelve-years-old and the race was the 50 yards freestyle against my childhood friend and rival, Declan. Declan was what Micheal Phelps was to Ryan Lochte, Lochte is always chasing Phelps. Shaking his hand on the crowded area I said "good luck" to him over the chatter of swimmers talking with their friends about the swim meet. Then walking over to my place where I awaited my turn to swim. For some reason, I felt very calm as my breathing was normal and a bit happy during this moment. I had no pressure all I had to do was swim. The whistle blew and announced "heat 4". The whistle blew again for the signal to step up. I shook myself out like I do for all races and then stood poised. The words "Take your mark" sent me down to my starting position and the loud beep sent me to spring out and I felt the cool water hit my skin as I kicked up towards the surface. Breaking towards the top I went into a fury for my freestyle sprinting as hard as possible and doing a flip turn on the wall. Once again kicking fast and breaking the surface I gave all I had left for this last 25 yards. I Slammed into the wall and quickly looking up at the scoreboard to see my time of a 26.52. When I saw the time I knew it was a best time and even more than that I had beat Declan. I felt like I had just won gold in the Olympics. I had only triumphed overDeclan my childhood friend but this was a friend that I had been chasing for the last six years of my life. Each swim season would come and go and he would always be better than me. Not anymore and this was one of the happiest moments that year. The longer practices with more yards to build up muscle and technique.
The memory fades as the car rolls to a stop and we are contrived (Cooper, Parker and me) to get out into the darkness loaded with my school and swim bags. Thinking about the homework and workload ahead of today I flash back to the hard work and dedication in swim that I have. While walking the thought of using the same work and dedication in school as I do in swim makes me have better grades and education which lead to a better job. "Using hard work and dedication throughout my life," I think while getting to the locker room"Will make me have a better future and life"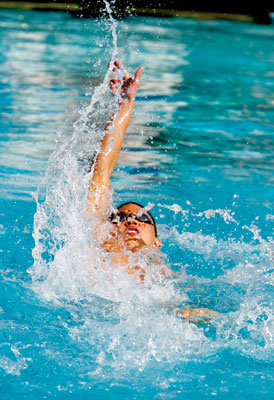 © Wenting C., Fremont, CA