The Night That Almost Changed Everything
February 8, 2017
It was just a typical Friday night basketball game until I went to block out.

I love all things basketball. I have played since I was 5 years old, I watch every KU men's basketball game, and my dad's a high school coach. My love for the sport was tested one cold February night.

I was playing like my usual self, guarding my girl, running the plays, rebounding, and blocking out. After the second of the two free throws were shot I went to block out my girl, and my girl jumped up to rebound the ball. I didn't get all the way in front of my girl, so when she grabbed the ball and brought it back down her elbow and my nose connected as I turned my head. I ran down the court trying to hold back tears, but the pain was unbearable. The tears started to come. While I was bawling on the court, the game still went on around me. My coach called a timeout, and had a friendly conversation with the ref, if that's what you wanted to call it. The conversation ended with the ref telling my coach that the girl hadn't even touched me, and I was crying for no reason. That made my coach mad. My mom came over to look at my nose. My coach asked her how it looked. She said it looked pretty crooked to her and he agreed. After you get hurt, the first thing you usually do is put ice on it. When we went to the concession stand to get ice, they told us they didn't have an ice machine. What sports facility doesn't have an ice machine? My mom ended up having to go to the nearby Quik Trip to get a bag of ice. Around 10 minutes later I went back into the game. The ironic thing was another girl hit my nose again. It had just started to not hurt, and then the pain came rushing back.

Later that night my mom decided to take me to an Urgent Care. The doctor started to push on my nose. It was still pretty tender, so it hurt pretty badly. The doctor said it wasn't broken, and to ice it and take ibuprofen. If we still had concerns about it, he told us to see an ENT. I went to see an ENT two days later. He told us it was definitely displaced and the time frame to get it fixed was closing. My two options were getting it set in the office right then, or have surgery on it. The thought of surgery scared my 10 year old self, so I told him just to set it. He laid me down in the chair and got himself ready. He pushed really hard, but didn't get it in. He had to try a second time. This time it popped back in. He pushed so hard a bruised formed the next day. During the procedure I didn't cry, or close my eyes. I sat there the entire time.

I couldn't play ball for a couple weeks and when I came back I was so scared. I kept thinking to myself, " What if someone hits it again?" That thought raced through my mind for every practice and game up until 6th grade. The number of points I was scoring and rebounds I was getting went down drastically. I was scared to drive, or take the ball to the hole. It wasn't like I could switch positions to play guard; I was the tallest on my team by at least a head and we needed some height down low. You wouldn't think it would take a year to get over the fear of getting hurt again, but for me it did. It got to the point where I didn't want go to games and practices. The thought of quitting even went through my mind. I almost let an injury which happened a year before stop me from playing a sport I love. This winter, when basketball season rolled around again, I told myself that the injury was behind me now. I was going to make fresh start. I was never going to let an injury hold me back again. This year I have been working really hard on getting back to where I was before my injury. My points and rebounds have been going up every game. Honestly I'm playing better than I did before my injury.

This experience has taught me a lot, but the biggest thing I learned is even if something bad has happened to you, don't let it stop you from doing what you love.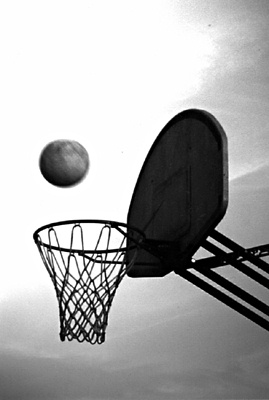 © Cassie H., Carmi, IL