Basketball Culture
February 2, 2017
Did you know that Nike held 92% of the U.S. basketball shoe market share in 2013. If that number surprises you, would you believe me if I said Reebok once held the same market share back in the mid 1980's, or that Michael Jordan dreamed of signing with Adidas when he was still a child? Imagine a basketball player releasing a rap album; it's probably not that surprising to you today, but that didn't happen overnight. A young star named Allen Iverson from Hampton, Virginia, changed the whole scene of basketball culture in the 1990's to 2000's. Basketball culture is inspired mostly by shoes, rap, and Allen Iverson.
Nowadays, Nike is considered the premier brand of athletic footwear, especially in the sphere of basketball. Some famed rappers like Kanye West have even designed shoes that imitate basketball trends. Kanye West's Yeezy 750 Boost are even selling for a staggering price of over $5,000 a pair. Adidas, Nike, Under Armour, and Reebok all compete for their place in today's basketball shoe market. Out of all three not one is even close to Nike; with Adidas holding 5.5% of the market compared to Nike who holds 92% of the market. The style of different basketball shoes has varied greatly over the years; with some shoes looking like reflective safety gear, having bright colors, for instance, neon pink and neon yellow, to whereas other shoes that look like rubber slapped on a piece of shaped cloth. Basketball shoes are not only a cultural icon of being cool, but actually represent real value in the sport. Basketball shoes help players keep traction on the court, and stop them from sliding, or rolling their ankles in mid-game action. Some styles of shoes include the lows, the highs, the slips, and the rises. Style is a very important factor in basketball fashion industry, because without a look that appeals to the public, there is revenue for the producers of the shoes.
Did you know that Shaq produced his own album once? As a matter of fact Shaq used to call himself Shaq Diesel when he still believed thought he could make a dent in the rap industry. Just imagine big Shaq; standing in front of a microphone trying to rap rhymes! I would say that conjures up a pretty weird picture, does it not? Some rappers, such as Drake, who is known for his lack of athletic ability & skills still dresses in a basketball-like style. Drake actually is the official executive for the Toronto Raptors, (Canada's only NBA team). The second rap song ever recorded had a chorus line that gave a shout-out to the New York Knicks. It read something like this: "I got a colour TV, so I can see The Knicks play basketball." As a result of this, most rappers have a favorite basketball team that they represent when they go out places. As examples; Wiz Khalifa reps the Hawks, Snoop Dogg reps the Lakers, and JayZ reps the Brooklyn Nets. Also, a person like Eminem, a universal phenomenon who is known as "The Best Rapper Ever", favors the Detroit Pistons.
Allen Iverson is considered to be the father of basketball culture. He actually changed the whole concept around the point guard position to this day. The point guard position used to be a position that was considered a position that didn't hold much value in the NBA. He changed the whole games perspective on point guards of only bringing the ball down court, to someone who shoots, drives, and breaks ankles or has handles. The point guard position today is considered as one of the most important positions in basketball. Some professionals contribute that new view to Allen Iverson's roll on the Philadelphia 76'ers roster. Allen Iverson's mother had him when she was fifteen and, being a single mother, this caused Allen's childhood to be rather complicated/challenging. He grew up in Hampton, Virginia, in a less than prestigious area. He was given a false conviction on the grounds of having been found starting fights at a bowling alley, even though he didn't do it. The cops supposedly pinned the crime on him, because he was one of the only black people in the area where the fighting had begun. The charges were dropped after an investigation had found he had been innocent. Iverson was also one of the first basketball players to make tattoos a popular lifestyle choice among basketball players. Iverson was at the forefront of making a 'larger-than-life' personality and attitude, or a celebrity-like lifestyle acceptable to the NBA, He started the trend of buying big houses, expensive jewelry, and buying very expensive cars. Just imagine having a big house with a swimming pool, a viewing room, et cetera, you could enjoy whenever you wanted . Or a yacht that had a full kitchen with a private chef, so that you could enjoy a nice steak while sailing down the West coast of the US to Mexico.
As you can tell, basketball culture is strongly influenced by African American culture. Many current basketball players grew up watching the greats, like Allen Iverson and Michael Jordan play. A NBA superstar himself, Lebron James himself has said, " I wouldn't be the man I am today if it was not for some of the great NBA athletes before me". Imagine basketball without any of its fancy shoes, or rap. The whole sport would feel a little weird.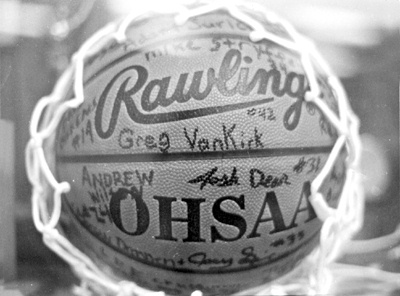 © Kaley D., Sebring, OH