Should Technology Be Further Improved for Contact Sports?
October 6, 2016
Technology has been improving on the ways neurological injuries can be avoided in contact sports, but the thing is are they finding a breakthrough to better or are they just reoccurring the same practices? Concussions are massively known for brain defects in most of the contact sports such as hockey, football and any other had hitting sport. Concussions have swarmed the spot of the mainstream as one of the biggest issues in adult and childhood life in the terms of sport. "Sport-related concussion is a significant problem among student athletes. Student athletes are more vulnerable to concussion, and at risk of neurocognitive deficits lasting a year or more, with serious effects on academic and athletic performance. RTPs do little to address the problem of sport-related concussion or the chronic damage caused by subconcussive brain trauma." (L. SYD M. JOHNSON, PhD, EbscoHost)
"There are approximately 23,000 football-related, nonfatal traumatic brain injuries resulting in emergency department visits annually in the United States; adolescents 5 to 18 years old account for nearly 90% of these injuries.1" (L. SYD M. JOHNSON, PhD, EbscoHost) That just comes to show how bad it is in the concussion department of sports. The statistics of not being neurologically injured from concussions in this type of sport is really slim to none in all opinion.

"The NFL says reported concussions in regular-season games rose 58 percent from 2014 to 2015 -- the highest number (182) in any of the past four years."(Kevin Seifert, ESPN). In 2012 concussions sky rocketed to the top killing of more than over 100 men and boys playing the sport in one year. Reasons why of concussions are happening in football:
Contact with another helmet (92)

Contact with the playing surface (29)

Contact with a shoulder (23)
(Kevin Seifert, ESPN).
Many helmet selections have been used in the NFL for prevention of this deadly injury like the Zero1, or Riddells SuperFlex (helmets with advanced technology) but in order purchase one of those helmets you must have a high paying job because those helmets cost.
Almost every year helmets change but when they change it's either hardening the outer layer or adding more foam inside and it needs to be fixed immediately. Helmets do not need ultra layers, they need reliable technology to help what we can't see inside them. We need to fix, modify and research helmets to keep this death gravitating injury out of the history book and into the abyss.

When players do get injured in the head this quote needs to be heard no matter the age group or league... "when in doubt, sit it out". (Bachynski and Goldberg, EbscoHost)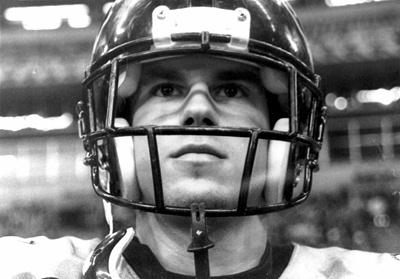 © Maria M., Halton City, TX