My Inspiration
December 2, 2008
The biggest inspiration in my life is easily soccer. Soccer means everything to me. If it wasn't for soccer, I would sit at home and be lazy all the time and I probably wouldn't be as concerned with school and grades since I wouldn't have to worry about sitting out a game or two. Soccer also helps me with my leadership skills because; as a part of a team, I am constantly helping people out and telling them where to go.

Soccer of all keeps me in shape and out of trouble. Usually, during soccer season, I can run a couple miles no problem and not even be tired and, during the offseason, I can still run a couple miles better than if I hadn't of played soccer or been working out for soccer. If it wasn't for my love of soccer, I wouldn't train or do anything in the offseason but sit around playing video games. With soccer, I am actually part of something which includes meeting new people and making new friends.

Soccer is also my inspiration to be a leader in my community. Soccer teaches me how to help others and takes things with responsibility. I always help out and take on responsibilities from my coach or the team captains. Soccer has helped me take that mentality off the field to everyday life to be a leader in my community. Now I do not mind taking charge in group work at school or helping out teachers and other people when asked.

That is how soccer inspires me to be a leader. If it wasn't for soccer, I would be a totally different person than I am today. Hopefully soccer will keep me going strong and out of trouble; and help me continue to build my leadership into the future.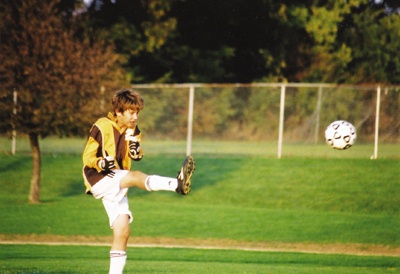 © Lori S., Springfield, OH