United Cup Game
November 18, 2008
The score was still 0-0 and there was only about 3 minutes left in the game. The rain had finally stopped but the field was wet and the air smelled soggy. A girl was coming at me,and fast, because I had the ball and then she ran into me and the next thing I heard was "Boom", my body hit the ground, and hard. I slammed and slid into the mud but I got up and my white soccer socks were almost completely brown.
I heard my name to get up and other yelling because the soccer ball was close to the other teams goal almost giving us a goal. I had to run really fast because I was a forward player and by now I was sweaty, dirty, and my cleats were soaked so I had to make sure they were tied well or I would have slid right out of them. I made it to the ball and passed it to one of my team members. Just in time too because a girl was coming straight at me to get the ball but she hit me and she fell instead of me, I stayed strong. The ball had gotten kicked out by the other team so it was our throw in.
Then just as the ball got thrown in I heard the refs whistle and I thought it was because she lifted her foot too early or something like that. I heard 2 more whistles and people started gathering off the field and I knew it was the end of the game. I was happy because we had tied and not lost but it would of been best if we won.We had to line up and I was already a little late because I could already hear people giving each other high-fives and,"Good game, good game, good game."
Finally we did our team cool down by jogging to the other side of the field as a team. Now I could go home and eat and rest for a few hours, but then I had another game. That game didn't end up as we planned and we lost. Our team will just have to do better next time and win!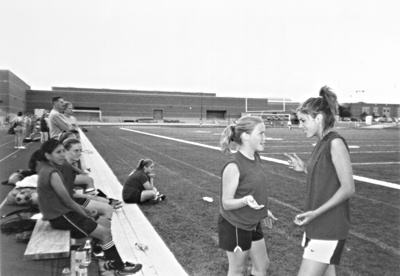 © Katlyn B., Highland Village, TX