Beyond the Tutu
MAG
November 5, 2014
I was there when her career ended. The beginning of the end happened like this: She leaped into the air with her feet pointed and knees straight, arms above her head. Time slowed, then stopped. Everyone in the studio drew in a breath, unable to look away. Then, suddenly, she was falling. There was a crack. If your body is your instrument, what happens if it fails you? There was an agonized wail: the sound of the end of another ballerina's career.
When people think of sports, they think football, soccer, baseball. Ballet dance is often overlooked and viewed as a hobby for little girls in frilly pink skirts. Ballet is not a hobby. It is a sport and an art form. It is a passion and an addiction. It is a way to express emotion without words. Dance is the poetry of the soul. However, ballet is a challenge that not many dare to take. The pain is very real, and dancers need immense strength, both physical and mental.
The windows fog up from the heat in the room. Sweat streams down everyone's faces and bodies. Toes are wrapped and taped and wrapped and taped. Bloody bandages are thrown out and exchanged for new ones. Pointe shoes are dipped in rosin and banged on the ground. Criticism echoes through the room.
"Those feet are atrocious!"
"Where are your arms?"
"Your leg isn't high enough!"
"If you do your turns like that, you'll never be great!"
The tension is palpable. All around the room, dancers silently judge and compete with each other. The practice room is where dancers spend most of their time. It is not easy. They do not sit pretty. Dancers work. The amount of energy it takes to dance a full ballet is equal to what's needed to run 18 miles.
Everything must be precise. Legs are lifted past shoulders and hyper-extended; feet are pointed, slicing through the air. Not one muscle, not one bone can be out of line, and yet dancers are not stiff. They glide across the floor with an ethereal grace that is breathtaking. Beneath the pristine tutus, sparkling tiaras, and soft pink pointe shoes are weary muscles and aching bones supported, for the time being, by adrenaline.
The hours and hours of practice will either pay off in the end or be wasted. Hundreds of ballet dancers train to become professionals, but few succeed. The ballet world is very competitive, with few spots available. Dancers have to be mentally strong to survive the constant judgment and competition.
Ballet dance is not for the weak. It may seem that ballet consists merely of silly ribbons and prancing girls, but it is so much more. Dancers are athletes and artists at the same time. We put our entire body weight on our toes, and though our muscles cry out in pain, we remain graceful and light. We continue to dance even as our bones twist and muscles tear, even as the sweat pours down our bodies and blisters form on our feet. It is an endless cycle, but it is one we do not wish to escape from, for the reason we dance is because it is the closest thing there is to flying.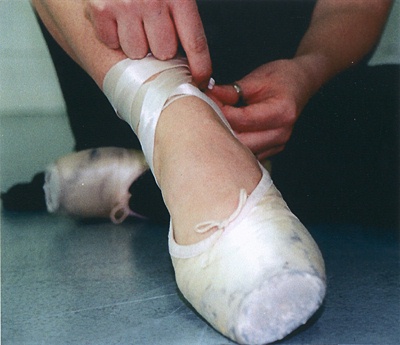 © Nora F., Pembroke, MA