Speed
MAG
I'm flying down the hill. If not for the low temperature, sweat would be pouring from my body. Sweeping past a gate, I almost feel the flow of the snow.

The curves between the gates are perfectly rounded for the control I need. The trail to the finish line has been cut by my many opponents, all racing to beat each another's time.

Crouching, preparing, I round the next gate, and throw my body down. Almost sitting, I lose complete control of the board. Although the sacrifice is great, I can feel myself pick up three miles an hour. The rush makes the adrenaline in my body pump all the faster. Eyes watering, I round the next bend.

The chill of freezing air burns my face, even with goggles and a bandana. I push my weight up, now at the next gate. Without precise control, my board would surely crash. Clad in woolen snow pants and thin black sweatshirt, I feel the gate hit my hands as I pass. The last gate!? I had been so busy trying to gain speed, I forgot about this moment – the final chance to make up time on the racecourse.

My brother has won continental racing competitions, but I never have. I told him I'd win the first race of this season, though. This is my final thought ­before I pass the last gate and start speeding up. The straightaway looks limitless, and my lungs and heart are now working overtime to get air and blood through my body. I crouch over the steep of a small drop and pick up more speed. I'm almost flying, I'm going so fast, and nothing can stop me now. Past the line, and I'm done with my final run. Stopping, I listen.

The announcer says, "Time for Christian … 48 seconds." I can't believe my ears: I beat my competition by a quarter of a second.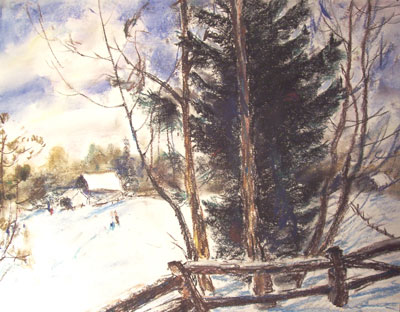 © Xiao H., Naperville, IL