Greatest Game Ever Played
January 13, 2014
Not many people get to feel the rush of having the most important game of your life! Imagine the fans screaming for you carrying the ball twenty yards away from the end zone while the defenders are trying to catch you. I have had that experience two times now and it never gets old. My team works every day trying to reach that goal; recently we succeeded. It's not easy and sometimes it's not even fun, but everybody knows that the harder we work the closer we are to making it to the state championship game.

My team is only a 1A division school but all that says to me is that we have to play like a family and can't rely on a bunch of really good players. Don't get me wrong we have some really good players, but not as many as a large 4A school. So, that is just what we do, practice hard and play like a family.

Having injuries allows us to see people's true colors. It tells us whether they can handle the stress in making up for someone else and doing what they need to do to help the team out by stepping up and making plays, or if they are going to sit down and break under the stress of trying to play like a starter. It's called having heart, to keep pushing even though they are bigger and better and letting hardships make you, not break you.

That is why my team beats the faster, bigger, better team by one point. In the recent state game for example, we had someone who would not give up with only thirty seconds left on the clock. When the other team went for a two point conversion he was not going to let them beat us again like last year. He was going to win no matter what! People like him are why we won the biggest game we will ever play! And a team full of people acting as one, with the same mindset of winning no matter what is why we now have state rings.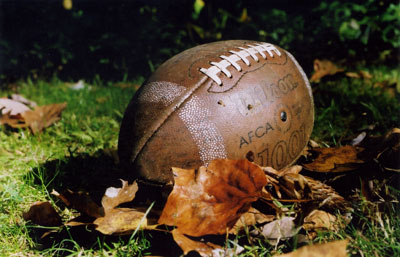 © Michael L., Bethesda, MD