Beneficial Exercising
November 21, 2013
When people look at me they think that since I'm skinny, that I don't need to work out. People have the mind set that if you're skinny, you're in shape and don't need to out unlike someone who is a bigger stature. I disagree with that. No matter what size you are, it is recommended you exercise at least 25-30 minutes a day.

I was someone who hated going to the gym to work out. Even though ive played sports all my life, I hate to sweat. If you think about it, what girl actually enjoys getting sweaty and smelly? I was determined to do everything I could to procrastinate going to the gym. My most common excuse was, "I'm too tired, I'll go tomorrow."

It would have been months since the last time I've been to the gym. I had hardly any muscle in my arms and for me being a volleyball player, arms and core strength is one of the most important things you need to have in order to play. Knowing there was going to be a lot of girls trying out, I knew I had to go to the gym and start building muscle.

So my mom got me a personal trainer for six weeks, who I met with once a week for an hour. Going once a week wasn't going to do much, so I had to be committed to going at least two more times. Not only having this ruggedly handsome trainer motivate me, but seeing the results made me want to exercise more and more. Exercising gives you great results, I want to build more strength since I'm a middle hitter. After working hard all summer, I got a starting position on varsity and I had the highest vertical jump out of my whole team.

I would avoid going to the gym or exercising anywhere, but now that I've seen the results and how good I feel afterwards, its something that I like to do on my free time. I encourage everyone to exercise because it not only makes you feel better about yourself, but it's also good for your health.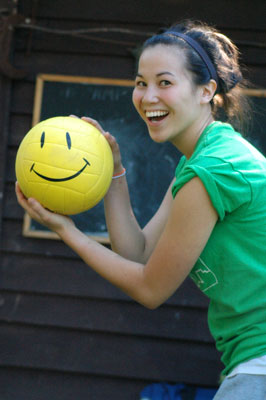 © Masaleen O., Palatine, IL