Teamwork
September 23, 2008
We were singing as loudly as we could on the bus to the volleyball game. We were laughing, talking, singing, becoming one team.
When we were finally arived at the middle school I walked in and gasped. I remeber the crowd cheering, a strong smell of nachos and popcorn, and stands reaching to the sky.
B team started first. They were fabulous. They would bump,set, and spike like they were doing it since they were todlers, but the opposing team were just as good.
It was the second game, and we were tied at 23 to 23. The last point decided the winner. The supence was growing. We hit it over, and they spiked it right back, and we missed it.
The strange thing was after we lost our coaches told us we played our hardest, and nice team work. Now we are not just almost one team. we are one team supporting each other no matter what.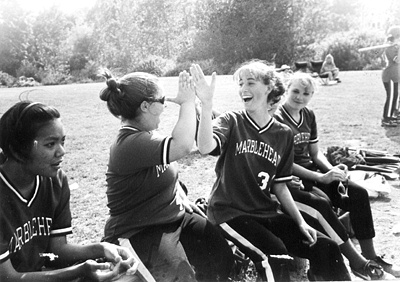 © Jessie G., Marblehead, MA