LeBron James vs. Michael Jordan
May 13, 2013
Professional athletes are the most talented and most skilled athletes in the world. Nobody can do what they can do at the level that they play that sport at. It is actually quite unreal, and some people do not give a lot of credit to some players. For a player to become a professional athlete it takes so much skill, determination and commitment that the world does not consist of a lot of professional athletes. Over the years, I have noticed that work ethic within the players has become significantly better. I am not putting down players that played 10 or 20 or even 30 years ago, but the athletes today have become more skilled, more versatile. They are better athletes all around. For example Lionel Messi, best soccer player to ever play the game. This year he beat the record for the most goals in a single season, this record was held by a guy named Gerd Mueller for forty years. The record for goals in a single season was 85 goals, Messi beat that record by a couple of goals. This examples shows that athletes, over the years have become better at playing sports. Is LeBron James a better basketball player than Michael Jordan, will he ever be?


Currently LeBron James has won three most valuable player awards, has played in the NBA for nine years and his current age is 28. He has won one championship at the age of 27. He has been the finals three times and has only won once. The Miami Heat won the championship as of last year. He also won the finals MVP. LeBron was the youngest player to record a triple double, he accomplished this feat at the age of 20. He recorded the triple double against the Portland Trailblazers on January 19, 2005. LeBron James accomplished a record that no one else in NBA history has accomplished. He went six consecutive games scoring at least 30 plus point and shooting a very impressive sixty percent from the floor. Over those past six games LeBron in total actually shot better than sixty percent, he shot 71.4 percent and he shot 66 from 92 from the floor, quite impressive. If you were to watch LeBron James over the years, it is quite impressive what he has been able to do. He changed himself mentally and physically when he went from the Cleveland Cavaliers to the Miami Heat. LeBron may not have been loyal but every player wants to chase a ring and LeBron found it necessary for him to chase his ring by moving to the Miami Heat. If you watch LeBron James play basketball today he dominates the game overall. NO player in the league has been able to stop him, you can say he has become unstoppable. His post-up game has become exceptionally impressive. When he drives to the basket players think of him as a train just barreling in, nobody can stop what he is about to do at the basket. Kirk Hinrich said this about LeBron when he committed a foul on LeBron: "The play before, there was a play earlier in the game where he was barreling down on me," Hinrich said. "I got the foul but he almost made it so I kind of ... you don't realize how strong that guy is and you forget sometimes, but with his speed and strength, you can't take anything for granted, so I still feel like I got the worst of it, obviously. But it was just one of those plays. I knew I was going to try to take a foul and then I just started going backwards and pulled him with me." (http://espn.go.com/nba/story/_/id/9106885/frustrated-lebron-james-questions-chicago-bulls-hard-fouls)


Also when you watch LeBron James play his jump shot, for being 6ft 8in quite frankly is unbelievably impressive. His ability to catch the ball and take shots, drive to the baseline and pull up for a jumper and basically pull up for a jump shot anywhere on the court is amazing. Most of the time he is being guarded very, very hard and the ball still manages to find its way into the net. That is what makes LeBron James such a dominant force, and he is only 28 years of age. I can only imagine what he will be accomplishing in the next couple years.


Quote from Scottie Pippen about LeBron James and Michael Jordan:
"But I think you've got to look at two different pieces here. Michael Jordan is probably the greatest scorer to ever play in the game, but I may go as far as to say LeBron James may be the greatest player to ever play the game. "He's so potent offensively. Not only can he score at will, but he keeps everybody involved. You have to be on your Ps and Qs on defense because no guy on the basketball court is not a threat to score when LeBron James is out there. Not only that, but LeBron James will dominate the game from the offensive end as well, but he also doing it on the defensive end, which really makes him a complete package. He gets in those passing lanes and shoots those gaps and creates transition opportunities where he's pretty much unstoppable."
What I just said about LeBron James I cannot say about Michael Jordan. Michael Jordan was 6ft 6in, he did not have the strength that LeBron has. His all-around game does not match LeBron's all-around game, but he was a better all-around scorer. Michael Jordan does have more rings that LeBron James has, and currently to some individuals that may be the outstanding factor to why Michael Jordan might still be considered to be the best individual basketball player to play the game. But if you look at information Michael Jordan won his first title at the age of 28. Michael Jordan though had an outstanding career, every single NBA championship he won the most valuable player for the championship. He won an impressive five regular season MVP awards, he won 10 scoring titles, was considered one time to be on the all-defensive team. LeBron James will never have the amount of scoring titles that Michael Jordan has won. All I can really say about Michael Jordan is that he is a better overall scorer. Back in his day nobody had seen anybody like him. A player that could score at will and bring his team up when they were losing. Everybody considered him the icon, and it seemed that he was a great all-around player but taking one glance at his stats they mainly focus on scoring. If you watched highlight reels of Michael Jordan if he didn't score his team still played good but they did not play that well. Even Scotty Pippen a former teammate said that Michael scored at will better than LeBron.
My view is that LeBron true as it may be is not a better scorer than Michael Jordan but plays the game overall much better than Michael Jordan ever did. LeBron's strength and athleticism nobody has ever seen before especially for an individual who is 6ft 8in. LeBron dominates the game more than Michael Jordan. Jordan dominated the game on one side, the offensive side. LeBron dominates on both ends of the floor, he passes, rebounds, play outstanding defense and is always the one on the fast break to block his opponents fast break shot. I believe LeBron has surpassed Jordan as the best player to ever play the game, no question about it. He will continue to dominate and eventually blow Michael Jordans stats out of the rafters.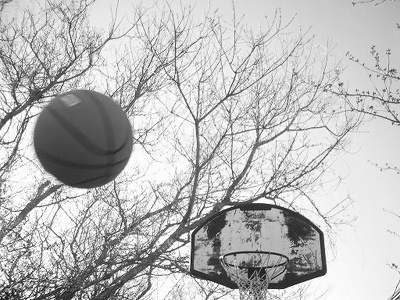 © Ali C., Hyannisport, MA