Special Olympics Basketball
May 10, 2013
This year, the Special Olympics Minnesota Basketball tournament was hosted at my high school. When most people think of Special Olympics basketball, they think of a bunch of people running around the court not knowing what they are doing. But it was the exact opposite of that. All of these athletes were very talented athletes. When I was asked I knew right away I wanted to play. One team wins the tournament almost every year, so they asked our varsity basketball coach to get a team together.

Their team was full of outstanding athletes. They tallest guy was 6'8" and was phenomenal. Before the game their coach came up to us and said, "Watch out for him. He can dunk when he feels like it." The age range on their team was 18-28 years old. The point guard of their team was also phenomenal. Most of the players on the team were above 6' tall. I think they had a lot of advantages compared to us.

Our team consisted of two juniors, both 6'1", one sophomore and four freshman all under 6' tall. None of us could dunk. Even the ref said they would easily beat us. We weren't playing to win, we were playing to have fun. We wanted the other team to have fun. We didn't care to lose as long as we had fun, which we had a ton of fun. The game was a really good game.

At the start of the game our team hit a three-pointer. They came down the floor and hit a three too. Later on, their 6'8" guy was on a fastbreak and dunked. We were amazed. A player on our team tried to dunk... and got rim-stuffed. Everyone on both teams almost fell to the ground because we were laughing so hard! It was one of the funniest things I have ever seen. The 6'8" guy dunked a total of eight times with 6 of those alley-oops. It was a tight game the whole game. It came down to the last shot, but we lost 58-56. It was okay though, because the game was all about having fun.
It was the most fun I have ever had and ever will have on a basketball court. It is a memory that will last a lifetime. I am so grateful I had the opportunity to play in the game. All Special Olympics athletes are amazing people and talented athletes. It was the best opportunity I have ever had.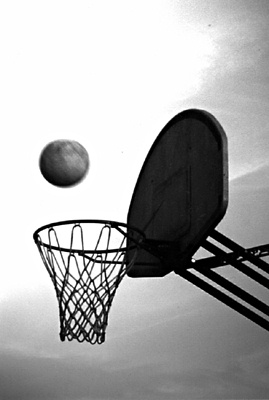 © Cassie H., Carmi, IL