The Greatest Athletes You've Never Heard of
March 10, 2013
"Who's Wambach?" someone in my art II class asks. "I've never heard of them before." I turn around, and stare at the girl behind me. My shirt is a signed Abby Wambach shirt. It's worth over 100$. "You know, Abby Wambach, the U.S Soccer player, that just won a gold medal this past summer?" I tell her. "She is about to break Mia Hamm's goal record." I get a blank stare. To this girl, and the rest of the world my shirt doesn't mean anything. It's something they would pick up at a Goodwill store down the street and wear to gym class. They don't get it.

This is something I constantly have to deal with. If I had been wearing a signed Tom Brady shirt or Michael Jordan Jersey this would have been something the whole school would be talking about.

Of course I understand why people don't usually know the athletes I talk about. They're women. They don't get the fans that men's pro-sports teams get or the money and endorsements either. And truthfully it's not just the professional athlete's either.

I play varsity Girls Ice Hockey for one of the best teams in my state Last year we went all the way to the states regional finals, and we were regular season champions. Our boy's team had a losing record and barely got into the play-offs where they lost in the first round. However, they had one thing we didn't. They had fans.

For centuries people have misunderstood women's sports. Most people find Women's sports less interesting because they don't think we can't hit as hard, run as fast, jump as high, or pass as far. Yes this is true. I can't hit as hard as a boy at my level, but that doesn't make my or any other women's sport any less interesting. I've seen olympians like Angela Ruggiero break the glass, during a hockey practice, like Milan Lucic, and I've seen Candace Parker dunk like Lebron James.

Not to mention we get the sameinjuryes the men do, and have to over come major challenges. Ali Krieger, also a U.S. Women's soccer player faced a nearly career ending iinjury in 2011, when she tore her ACL completely. Julia Clukey, an olympic luger has who has Arnold Chiari Syndrome, which is a problem where your Cerebellum pushes you spinal cord and can cause lots of pain. She had to put two seasons on hold to get eight millimeters of bone shaved from the back of her skull. Now she is one of the top luger's world wide.Then there was Alyssa Grogan. She was a Junior at the University Of Minnesota and a very promising hockey goalie. Then on October 18, 2010 she received a concussion that ended her career completely and forced her to drop out of college for a year. And these are just the tip of the iceberg.

Everyday female athletes have to face adversity, in the same way that men do and don't get the credit they deserve. We work just as hard, and play with the same amount of heart. Hopefully one day the world will wake up and realize that. But, until then we will play our sports, and we will continue to push for equality.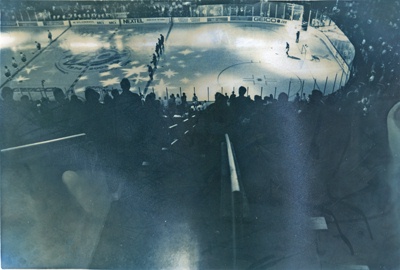 © Daniel K., Bethesda, MD