Senior Year
January 18, 2013
It hasn't hit me yet that my high school volleyball career is over. I imagine myself getting dressed for spring open gyms. I imagine playing with the team I've been playing with for two years. I never imagined that high school volleyball would be over, but that's because I never wanted it to end. I never thought my senior year would be filled with so many accomplishments. I am thankful I was able to achieve all my goals throughout my high school volleyball career.

In middle school, volleyball and soccer were my passions. The summer before entering high school, I had to make the toughest decision. I ultimately chose volleyball. As McKinna and I arrived at the high school for spring practices, I knew I made the right choice. I still remember my coach at the time Aly Mitchell video recording me serve over and over and over again. To this day, I think that one practice made me a better server. After the spring practices there were tournaments. I was lucky enough to be a part of all of them.

My freshman year I was thrown into the varsity scene. It was overwhelming and stressful. Being one of the two starting freshman's was intense. You can imagine how terrified I was to go into a game and have the possibility of messing up. We didn't have a successful season, but that never stopped me from playing. It was what everyone would call a "building year".

Sophomore year was the year I saw myself in the newspapers and became one of Whatcom County's top hitter. I fell in love with the game. I couldn't seem to get enough of it. I wanted to work harder than ever to achieve more. I still was a youngster on the team and that was still stressful. I originally was a middle hitter my freshman year. As my sophomore year rolled around, I didn't want to be stuck in the middle. My hitting was improving and I wanted to be an outside hitter. It was our last day at Western volleyball camp when I asked Jenny if I could be an outside just for one game. She said yes, and after that game I never went to middle again.

My sophomore year I thought I loved volleyball, turns out that was puppy love. My love for the game grew enormously my junior year. I finally figured out that volleyball is what I want to do through high school and through college. With a new team it was hard to express my passion for the game. It was weird being the upperclassman and trying to put the new girls in at once. I'll admit, it was frustrating trying to get the flow of things. We weren't a fully developed team. It seemed to be all three years were building years.

After my junior volleyball season, I decided if I want to achieve my volleyball goals, I had to work my butt off for it. Not only was I constantly compared to my brother who played a completely different sport, I wanted to make a name for myself. I'll admit, most of my drive came from him. He worked his butt off to get what he accomplished, and never let me forget that my goals will not be achieved by sitting on the computer. I got right into club volleyball, with Lighting. When I wasn't at club practice, I was in the gym. I tried going to the gym as much as possible. I started lifting weights like crazy and doing air alert. When I got the chance to play more, outside of club, I took the chance. Taryn and I spent time outside of school just practicing the little things. Tournaments in the summer seemed to help us as a team. We grew together and stronger. I could feel the best season of my high school life beginning.

As my senior year rolled up, we were ready. Practices were all out every time. You know the 'getting the flow' I mentioned earlier? We got it. We got it good. It was weird experiencing so much trust within a group of girls. In the previous years, if someone messed up, automatically every girl would put some grudge on her. It was different this time around. If someone made a mistake, it was flushed and on to the next ball. At the beginning of the year we put together a poster of goals. Don't lose two matches in a row, win seventy-five percent of league games, top three in districts, and lastly, make it to state. The whole team knew every single one of these goals would be achieved; there wasn't a doubt in our mind. And we did. State was the best experience I've had throughout my high school. I had the time of my life on and off the court. We made the best of our time there. If I could put it on repeat, I would a thousand times.

Not one of my goals could have been achieved without my team. I am grateful for all of the hard work my teammates put into the season. My teammates seemed to love the game just as much as I did at the end of the season. I couldn't have asked for a better team. I'm so thankful I got to spend four years with McKinna by my side. We grew together, as teammates and friends. She knew exactly where I was on the court, she knew just the right set, she knew just about everything about me as a player. In no way would my goals been achieved without her by my side. I can't thank her enough for being the best teammate I could ask for.

Reality hasn't set in, and not sure I want it to just yet. One thing is for sure, I'll never forget my teammates throughout the last four years. Ill also never forget the accomplishments my team and I have made. Lastly, I would like to thank my coaches, family, teammates and supporters. You each have made a lasting impact in my volleyball career. I wouldn't be where I am today without the help of each and every one of you. There were ups and downs to each season, but I wouldn't in a million years trade them for the world. I'm looking forward to a future with volleyball incorporated to my everyday life.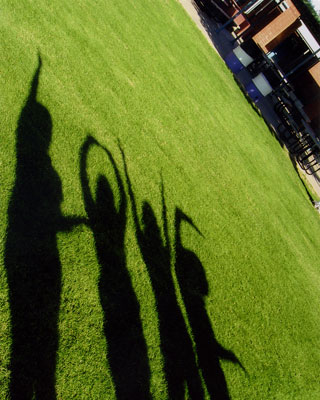 © Lindsay - Elese G., Phoenix, AZ