Sweat Sisters
MAG
November 26, 2012
I used to believe that running was a solitary sport. That nothing could come between me and the relentless pounding of my feet on hard cement, the steady rhythm that drilled into the ground with every effortless stride. Sometimes, the open sky and endless rolling hills still fool me into thinking I'm alone. Sometimes, when I'm gasping for breath on a dark, lonely track, I can convince myself that I'm driven by my own fire, that only I keep my burning legs pushing on into the night – but I'm lying.

We all know the common clichés about running, like "Our sport is your sport's punishment." They're true. Running is a rare sport in which performance is based entirely on mental toughness, your ability to endure pain. It's a pure sport – there are no referees, just you, the other runner, and the finish line. You don't pass balls, you can't get a substitute, and if you lose, well, there's no one to blame but yourself.

But running isn't a solitary sport. It's not about the hours you suffer, but the hours you suffer with your teammates, stride after stride, hearing one another's ragged breathing and knowing that someone understands what you feel, because your pain is their pain. We don't just run together, we sweat together, and somehow this becomes our bond of sisterhood. We don't just run with each other, we run for each other.

One track meet last year was particularly tough for me. I had set a personal best in the mile that afternoon, and my coach told me to my horror that I would be running the two-mile as well. As the gun went off, I only thought bitterly of my raw throat and my legs burning with lactic acid. But after the first mile, I opened my ears to the screaming of teammates and my eyes to the one girl ahead of me; it was then that I realized why my coach had wanted me run – we needed a win.

When I won the meet with that race, with tears in my eyes and on the verge of collapsing, I had learned a new level of pain. But I had also learned that just as my teammates ran for me, I ran for them.

Teammates, other athletes call each other. Sometimes friends. But being runners gives us more than friendship. We would never have met off the track. Molly taught me what "leave your heart out on the track" really means. Heather has shown me that you always have something left. Maddie made me realize that success isn't what you do, it's who you are. And Charlene always gives me what a runner needs most: hope for a better race tomorrow.

We're only five runners. But when we lace up our spikes, sling our track bags over our shoulders, and step onto the oval, we are a team.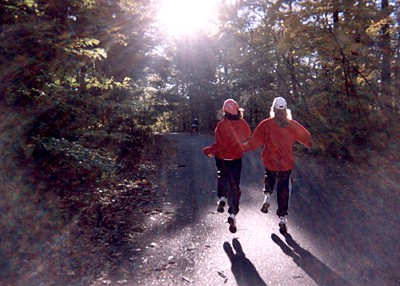 © Jacqueline W., Milton, MA