What I Like About Football
November 13, 2012
Right after we brake you got rage on trying to hit the person where it will hurt them the most to make them afraid of you to let them know your there and you won't let them threw I main reason I play football is hitting people with all you got trying to hurt them getting pumped pump your feet pushing them back making a hole so the runner can get threw and run and make a touchdown.

Not getting down if you lost it is if you played a good game is all that matters but winning would be good to. Even though are football session is over know but we got next year. Playing the end where you can get good tackles and not let the other team threw the line and not let them make any yards and not let them make a touchdown and when it is are turn to run the ball the goal is to make all the yards we can and make all the touchdowns we can to win the game but that don't happen this football session.

The first super bowl was in January 15, 1967, between the Kansas City chiefs, Green bay packers, and packers won 35 to 10. They have been two and the second one was in 1970 and they won.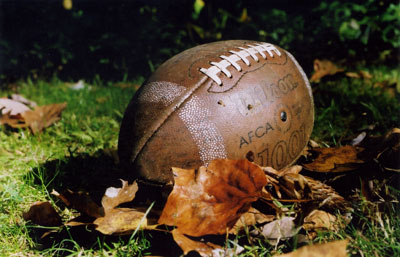 © Michael L., Bethesda, MD