Parents Are Ruining Youth Sports
November 4, 2012
Attention! We need to put a stop to parents ruining youth sports. It has gotten out of hand.

A recent study showed 26 million children participated in non-school sponsored athletics. By the age of 13, 70% quit. The amount that still plays sports is around 7,800,000; the number that had quit is around 18,200,000. That's more than the population of many countries.

No wonder kids are quitting. Many parents show no sportsmanship. Like once at a girls state championship game for hockey, a parent used a laser pointer to blind the opposing team's players. Isn't that going to far?

In another example, a priest in Springfield, Massachusetts was arrested for biting off the ear of the opposing coach because his team lost in a sixth grade championship basketball game. Sounds just like Tyson vs. Holyfield. But seriously, aren't priest supposed to be an image of God not an image of Iron Mike.

When I did my survey I found that parents would often cheer at an injury if it were player for the other team. My brother Mario Widdowson got cleated in the face during a soccer game. The opposing parents were hooping and hollering at his pain. Cheering for your kid's team is one thing, but cheering for a kid's agony is darn right childish. What are parents teaching their children these days? All of the players were down on one knee waiting for Mario to get up, out of respect and it's was the right thing to do.

The kids are more mature than these parents.

There are different types of parents. From the book "Parenting With Love and Logic" the authors describe two different types of parents. -The first is a helicopter parent, they don't allow their kid to succeed or fail on their own. The other type is a lawnmower parents, they mow down anything in their child's path to make life as easy as possible.

I have observed helicopter parents. When my brother was playing club soccer, one of his teammates parents yelled at their son, "shoot the ball". It was from about half field. He did and the coach benched him. Another time the same parents told their son "go to the ball", he was playing defense and the ball was on the other side of the field. He went for it and the coach benched him again.

The parents are attempting to coach from the sidelines. The kids don't know which commands to follow. It confuses the players on the field. Many mistakes happen. It's embarrassing to the kids to have their parents yell out. It's not good for kids confidence. Team morale suffers. What is the goal in youth sports anyway?

I believe if we have US Air Marshall's on almost all planes, then we should be able to have security at youth sports events. It might cost you more money but it will help solve a lot of problems. Then, I will bet the staggering 70% that quits by the age of 13 will decrease rapidly. Also, the child obesity percent would go down from its whopping 17% with more kids playing sports. Sports are a good way to get your exercise so you can stay healthy and prevent health problems in the future.

Parents need to continue to sign sports contracts to follow rules including good behavior. The rules need to be enforced. On my lacrosse team each parent had a turn to wear a badge as the enforcer of the rules. It seemed to help. But it could easily get out of hand at any game. You hear a lot of yelling going on from the sidelines. Problems happen in youth sports all over the United States.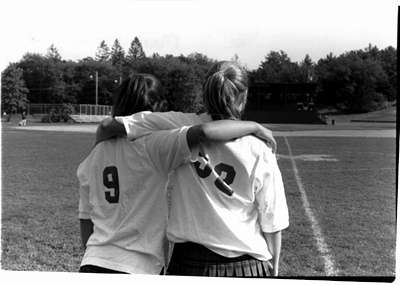 © Kelley C., Marblehead, MA