Infinite Golden Floors
October 20, 2012
I could hear the rustle of costumes and the scuffle of different types of dance shoes as dancers waited backstage. I could see the quick glances others shared with their classmates. I could feel the floor pounding as music played loudly. I could almost taste the adrenaline and energy in the air. But above all, I heard the sound of just our little group, each taking turns dipping our pink, satin pointe shoes into the sticky, yellow rosin. The familiar sound of the rosin being crushed under our feet soothed me, if only just a little.

Suddenly, Jess exclaimed quietly, "Guys, this is so nerve-wracking! My boyfriend is in the audience. What if I mess up and fall flat on my face?!"

Upon hearing that, my heard started beating faster, pounding so hard I was sure I was going to have a heart attack. Why did she have to say that? She was more experienced than the rest of us. If she was worried, what were the rest of us? We tried to comfort her, but in reality, it only scared us more. After all this preparation, what if we just couldn't do it?

"You'll be fine, Jess! You're such an amazing dancer. You would be the last one to mess up," I said. The others nodded in agreement. Maybe we all knew that that was what we needed to hear.

Soon, we fell back to the hushed silence we were encompassed in previously. We watched the tap routine currently on stage from the wings. My eyes were watching the dance, but my heart was racing, I had butterflies in my stomach, and my mind was in a jumble, trying to remember the routine.

"Guys, we should go to the other side of the stage now," Olivia said hurriedly, taking me out of my thoughts. "The tap dance is already half way done."

We made our way across the stage, and once we crossed to the other side, I peered through the thick, black curtains. I saw Alex standing on the other side of the stage, also peeking through the curtains. We looked at each other with wide eyes as we heard the tap music come to an end. We all took a deep breath, preparing to dance.

In that last moment, when I heard the tappers taking a bow and about to get off the stage, I panicked. I was shaking, my palms were sweaty, and I feared that I wouldn't be able to dance correctly because my legs felt like jelly. "What if I mess up? What if I fall? I don't even remember the dance anymore!" I thought to myself. I tried taking a few deep breaths, but I knew that it wouldn't help. All of our preparation went out of my brain in that moment. I couldn't focus on anything but the stage lights.

An instant later, I heard the music begin and prepared for whatever was about to happen, whether good or bad. We stepped out into the blinding lights shining above us. My heart was still thumping like crazy, but I smiled out into the dark audience anyways. I prepared for this. We worked on this dance for almost the entire year. I knew I was ready, but my mind couldn't grasp that just yet. My mind raced and wandered as I looked out into the darkness. My legs shook so hard I was amazed that I didn't fall. My heart was beating like a drum. Maybe it was just the adrenaline. By that point, I really couldn't tell.

When I heard our queue, my legs and arms took over. Despite my blank mind, my body knew what to do, flowing from one step and into another. The smile on my face became less forced and more genuine. The pounding in my chest never stopped, but it didn't scare me anymore. Instead, I felt a rush of excitement, and I felt pure freedom. As we leaped, I felt like I was flying. As we twirled, I felt like I was able to just let go. In that moment, I felt that wonderful feeling that makes all the hard work worth it. Above all, it was the feeling of doing something I loved just because I wanted to.

As the song came to an end, we curtsied and ran off the stage. We were all panting so hard from the tough routine that we sounded like we just finished a marathon. When we finally all started breathing correctly again, Julia said, "Wow guys, we actually did it. We didn't mess up, we didn't forget anything, and we did pretty well, if I do say so myself. But I am never doing something like that again. It's torture!"

In reality, it wasn't as bad as she made it sound. But inside, in my heart, I felt a feeling that I hadn't felt in a while. I felt like everything was okay. I was exhausted, but my face held the largest grin in the world. Dancers know that it's not really those three minutes on stage that matter. It's not really about perfecting every move and every costume so you look perfect on stage. Underneath it all, that's not why I dance; it's not why any dancer dances. We dance because it allows us to express feelings that are stronger than words. We dance because it makes us feel better on our worst days. That one pointe dance won't mean anything to me five years from now. But there will always be another performance that kindly reminds me of why I continue despite the hardships. Someday I'll forget all these specific dances, but I will never forget the feeling I get from dancing. I will never forget the memories I've made. I will never forget the collection of three minute dances that will inspire me forever. As the poet Marjorie Allen Seiffert once wrote, "They who dance find infinite golden floors beneath their feet." No matter where I go, I know that I'll always have dance.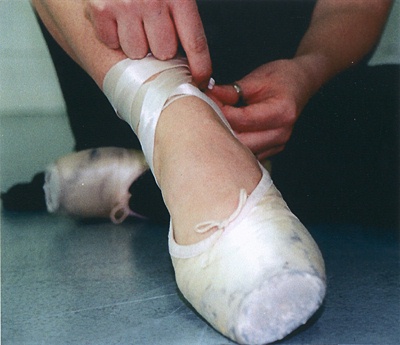 © Nora F., Pembroke, MA