Volleyball
October 19, 2012
I love volleyball. It is my first year in sports and I'm loving it. It is the most wonderful thing. I want to tell you what we do in volleyball on practices. As soon as we get out of school we go to the locker room and change. You need spandex, knee pads, and a shirt if you want to be in volleyball . I think it doesn't matter what kind of shirt you wear. I normally wear a tank top with a cut-out shirt. Sometimes I only wear a tank top.

Then after you get dressed you go to the gym. Then you wait for the coach to get there. She unlocks the room where the net and balls and stuff is. Then some people put the net up. Some practice serving and hitting it back and forth to each other while others put the net up. We have to run two warm up laps before we start and we have to stretch after the two warm up laps. Then we run 8 more laps after we stretch and we get yelled at if we walk. Then we pass the ball back and forth to each other.

If we don't hit the ball sometimes when were supposed to we will have to run as a team. Or when we're practicing we will have penalty's. Like we have to do verpes. Verpes are like things where you go in push up position and jump up real quick. And then you go back down real quick. We have fun though.

I like volleyball, because it is a very good sport. And you need to have some good sportsmanship to play. We have the best coach in the world. No one could top off how awesome she is. She is a young lady and her name is Caitlin. I call her Coach Caitlin.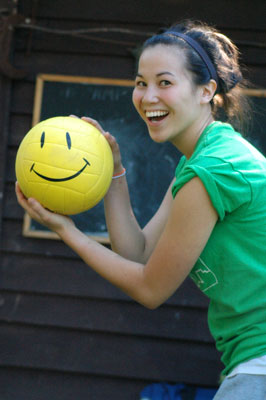 © Masaleen O., Palatine, IL