This is Life
May 30, 2012
Panting, pain, footsteps, and that final moment when you know you finished. This is life. This is pole vault. As a freshman coming into high school the only thing I knew was that I was a cheerleader and I was fresh meat. The stories of high school scared me and the other kids intimidated me. Going on through high school and cheering at games I was so mesmerized by it I forgot that all too soon it would be over. Once cheer ended I felt as if I needed to keep on working out, needed to stay busy so I decided to join track. As I went to that first day I didn't know which even I really wanted to do I felt running wasn't really my thing then I saw it the amazing pole vaulters.

That first day I see about 6 students will huge pole and see them run down an aisle and jump onto some huge pits. It was the most amazing thing I had ever seen in my life!! It was something I had never seen before it was as if they were just flying in the air and it looked so easy once I joined I realized I could not have been more wrong. Pole Vault was the hardest sport I had ever done it required not only physical but mental strength as well. Working out every day to build up upper body strength and then apply to my vault was a rollercoaster ride but it was all made up the first time I cleared the bar.

As a freshman I was scared enough but as soon as I got on that runway it was as if the entire world just paused for a second and all that was left was me, the pole, and the bar. I ran those steps and planted my pole and drove my knee and for those 5 seconds I was flying carefree into the air. It was by far the best feeling I had ever had but what made it even better was looking back and seeing the orange bar sitting steadily on the standards. That was it. I was a proud 14 year old girl who had finally cleared 6 feet.

Ever since then I continued pole vault and realized I not only fell in love with the people who are now considered my "pole vault tribe" but I also fell in love with the sport that everyone called crazy. However, I think that's what needs to happen you have to be a bit crazy to do something worth sharing. Pole vault isn't just a sport it's a way of life, a way of being out of the ordinary and a way of showing everyone around that it's never as easy as it seems.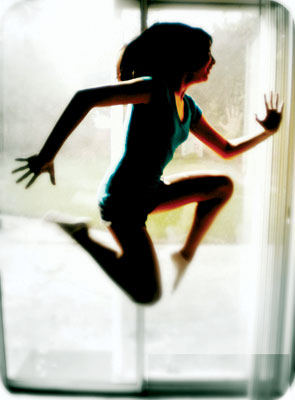 © Michelle L., Syosset, NY