Seabiscuit
May 23, 2012
In the late 1930s, Seabiscuit was the most famous celebrity in the world even though he was a small box looking horse that looked like he should be on a farm instead of on a race track. People all over the world bought Seabiscuit paraphernalia and would tune into his races. Over 10,000 people would attend one of his workouts. He is believed to be one of the greatest race horses of all time. He was found by a great trainer and owner.

Seabiscuit's owner, Charles Howard, would have never thought that he would invest in horses and race them because he started the car business in San Francisco. His love and passion for cars and racing cars died along with his son, Frankie, who died while driving a truck. After that day he was never the same and started to use the barn, which had previously been occupied by his cars, for his horses. He always believed in hopeless causes so he started to look for a horse that was not very successful, but had potential. He found the horse he wanted in Seabiscuit. Both Howard and his trainer wanted this horse and knew there was greatness in him.

Seabiscuit's trainer, Tom Smith, was one of the greatest of all time, but did not get credited for being great until Seabiscuit came along. He could fix any horse if given enough time. He did not talk much but knew how to talk to horses. He knew how to heal them and was usually right about what was wrong with a horse. Abilities like these in a trainer allowed Seabiscuit to race so great for so long. After Smith and Howard became acquaintances, they had to look for a jockey.

John Pollard, also known as Red, was only able to ride one horse and win: Seabiscuit. Before he became Seabiscuit's jockey, he was a regular jockey that had trouble making it to the winning circle and was low on money. He also tried prize fighting but was never successful. He had a disability that only he knew that kept him from the winners' circle a few times: he was half-blind. He was a great guy that would give you his shirt if you asked for it. He hated to take money from others but had to some times because they offered and he had no other choice.

After the four met each other and started to train Seabiscuit, it became very clear that Seabiscuit was a great horse. He had great speed which he inherited from his father, Hard Tack. He had a habit of taunting his opponents before finishing them off. He could crack other horses with his taunting. He had the heart of a champion because when he looks another horse in the eye, he will run his heart out for you. His racing heart combined with being trained by Smith, allowed Seabiscuit to become the best in the west in a short amount of time. He beat track record after track record and opponent after opponent before learning of the greatest horse in the East: War Admiral. Soon, Howard and Smith decided to go and have a match race with this great horse.

Samuel Riddle was the owner of War Admiral and did not like the idea of having a match race. After a while Howard and Riddle made an agreement to meet in Belmont to have a race between the two for a $75,000 winner-take-all purse. On the days before the race, Seabiscuit had trouble running and his times were horrible. As Smith continued to train Seabiscuit he saw that the horse had a sore left front foreleg. Howard decided to scratch his horse because of this. The next time they tried to have a race between the two great horses was in the Massachusetts Handicap with a full field. Before the race, Smith found a bruise on Seabiscuit's leg and wanted to scratch him, but it was already past time to scratch his horse. In order to scratch his horse, he had to have two veterinarians say that the horse was injured and both thought that he was hurt to the extent of ending his career. They were able to scratch the horse, but soon found out that Seabiscuit only had a bruise.

One day before the second try at a match race, Pollard was asked to ride a horse for a friend and could not turn him down. It was a skittish horse and he had no business riding it. Everything started out great and then the horse was scared and went crazy. It crashed into the barn on top of Pollard's right leg and it was nearly cut all the way off. It took nearly an hour to find a hospital and Howard asked for the best surgeons to work on Pollard's legs. Luckily he was able to keep the leg. He was told that he would never ride again, but he always had hope. One of Pollard's friends, George Woolf, took Pollard's job when Pollard went down. Woolf rode Seabiscuit in the match race against War Admiral.

Howard knew that his chances of having another chance at War Admiral were very slim because Riddle was hard to make a deal with to have a match race the first time. Then Alfred Vanderbilt tried his luck with Riddle. Vanderbilt finally got a deal with the two at Pimlico Racetrack in Baltimore. The conditions were that they would walk up to the start instead of have a gate; Vanderbilt would have to get rid of his track starter, Jim Milton, and in favor for Belmont's starter, George Cassidy; each horse would carry 120 pounds. The race was set for November 2, 1938.

On the day of the race, forty thousand filed in to watch and there was not enough room in the stands, so they used the infield and tried climbing on things outside the park just to see a glimpse of the race. Woolf, aboard Seabiscuit, was told to let War Admiral catch up because Seabiscuit will run harder when he looks into the eyes of his opponent. The race started and Seabiscuit had a two length lead before Woolf did as instructed and let War Admiral catch up so Seabiscuit could look him in the eye. After the final turn, Seabiscuit started to pull away and won by four lengths.

A few weeks later, Seabiscuit suffered an injury that was supposed to finish his career. He ruptured his suspensory ligament in his left foreleg. He was taken to Ridgewood, Howard's ranch, to try to recuperate. Pollard also did not believe that his horse and he were through racing just yet, even if they were told they would never race again. They healed together and finally both of them made recoveries. There was still one race that eluded them: the Santa Anita Handicap.

On March 2, 1940, Pollard and Seabiscuit raced in the Santa Anita Handicap. Halfway through the race, the two had nowhere to go, because the two horses in front of him formed a wall. Then a small hole opened and the duo raced through it and Pollard was less than an inch away from hitting one of the horses and reinjuring his leg. Then Seabiscuit led until Kayak, also owned by Howard, pulled even with Seabiscuit. Then Seabiscuit looked Kayak in the eye and sped off alone toward the finish line. It was the greatest race in Pollard's life.

Seabiscuit was then retired and lived to the age of fourteen. Howard buried his most favorite horse on May 17, 1947, secretively, and marked the spot with an oak sapling. Few people knew where he was buried. He is believed to be one of the best racehorses in history because of his heart and speed.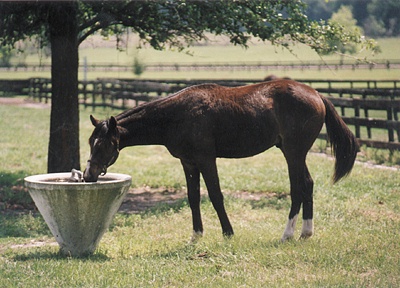 © Ashley K.,New Port Richey, FL