My Big Shining Moment
May 23, 2012
It all started with a dream. It was a cold and wintery day. I had just finished dancing my heart out at Alexandra. We did amazing! I didn't think that day could get any better! My dream turned real when my coaches pulled me out of the room and said "Madi, the head coach of varsity, might talk to you about getting moved up to the varsity team!"

I couldn't believe what they were saying. At first I thought they were kidding, but I knew them better then that. Together for almost four months, you really get to know someone I was so excited! Then I remember that my friends that didn't make varsity were heartbroken just like I was. I didn't want to make them feel bad by saying I was better then them (which wasn't true) like some others had been doing.
They all thought I was getting moved up, I lied. But they were right. When the varsity coaches pulled me aside they said "We would love to have you on our team." My heart dropped, my JV coaches told me before, but it didn't feel the same. They said I would be an alternate and there might not be a chance I would ever dance with all of the amazing and talented girls that were on the team before me. Which I was okay with. I was honored that they thought I was I was good enough to be out there.

I wouldn't get a chance to dance at State (if we got there) or other competitions. And most importantly I had to learn the dance. Most of you are probably thinking well that's not hard. Have you ever studied for a test the night before? Now imagine studying for three test the night before.

I had to learn a whole new dance while remembering my JV dance since I still had one more competition with them. The varsity dance was three minutes and 21 seconds long, that may seem long and it's really not. Now add in 10 kick sets and arm movements. You're either kicking, moving to a new spot or arm motions the whole time. You're always up and down again and again, your heart is always beating fast, and hardly getting a chance to breathe.

Does that sound hard? Yeah, it was but it was worth every moment I couldn't breathe. Hard Work and dedication really payed off. I sat on the bench for three weeks till Coach Madi pulled me aside and said "How are you?" "Good" "You ready?" "For what? "To dance! We want you in to dance with us" "Really??!!" "Yeah, let's get you in"

That's how it went. I never would have thought that she would put me in and now I finally got to dance on the Varsity team! My first time dancing for varsity was at our home mini meet! In front of my hometown and all of our BDT fans. As I walked on to that floor, I wasn't scared or afraid. I knew I could do this, for this is what I have practiced for, for this very moment. Right now this is my time to shine. Go out there and show to everyone why you belong here and why you deserve to be on the Bomber Dance Team.

My coaches said, in front of the whole dance team, "Maddie Moskal. Where is she? Ho-ly! Crap! She danced amazingly, she did more than what we asked of her. She not only proved to us but to herself as well, that she was made for this team!

Sections week went by so fast, sweeping away not one but TWO first places. Before we knew it, it was a day before state. We all couldn't believe it. I kept thinking, Wow! Two days till State, I can't believe it. This will be my third time performing this dance, and it will be on the State floor. How cool is that! I will be dancing in front of hundreds of people. State last for two days. Day one is all Jazz, we placed fifth! That's pretty good. Day two is High Kick. High Kick is what everyone wants but only one team can have, the plaque that says they are the State Champions of the High Kick division. Before I even knew it I was scared.

The next thing I know it's day two and we are walking out on the floor for prelims. If we are one of the top six teams we go on to finals. We made it past prelims. I don't think I have ever been so nervous in my life! Walking on that State floor for finals with people screaming your name and standing up to see you walk on it is one of the most amazing feelings ever. There are people that you don't even know standing up and clapping for you. Finals felt amazing knowing that my team and I worked hard for this day. We made our coaches cry for the first time! It may not sound good, but it was.

Out on the floor waiting and hoping for our name to be called. There are six teams out there, and only three will get called. Third place goes by. Here comes second. I hear "And your second place team for the 2012 Minnesota State Dance High Kick Tournament is...." It felt like a million years waiting for a name to be called. Wait what! Did he just...Oh my gosh he did!!! We did it! We start screaming and jumping up and down. Somehow we all ended up in a big clump jumping, screaming, and crying. Our coaches were so proud of us. Now of course we wanted first, everyone wants to win, but we didn't care we were so happy with what we got. Our main "enemies", Aikin, got first. For nine years our team has been at first and Aikin at second or Aikin at first and our team at second.

I was on that team for seven weeks and I was a part of the second best team. I was the only person to experience the fun of being a captain and dancing on JV to having a State medal around my neck. My hard work had paid off. At our banquet the whole team stood up for me when I got an Outstanding Dancer Award. I pushed myself farther than I thought I could go. I had so many girls come up to me and tell me "Amazing Job!" "I'm so proud of you. You really are amazing!" "Thank you for stepping up and taking this challenge." "I can't believe you just got moved up! You look like you have been here since the start of the season."

Now if you would have asked me back in November if I could see myself dancing on the varsity team at State I might have laughed. Just because you're not on the top level team doesn't mean you aren't great. Everyone has special talents of their own, you should push yourself to work on your weaknesses. I'm glad I pushed myself and I'm very grateful that the varsity coaches saw a great dancer in me.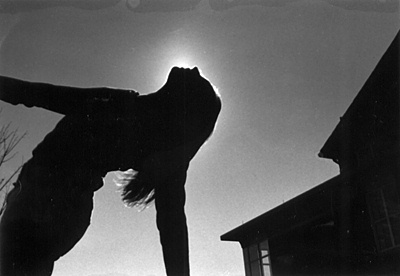 © Alexandra B., Marblehead, MA