On the Right Track
MAG
April 21, 2012
I was a short, scrawny boy standing in a sea of tall, muscular men. I watched their sinewy arms with apprehension. A gunshot sounded, and I watched eight bodies of solid muscle fly down the track, arms pumping furiously. I gulped.

I was about to compete in the freshman 100-meter heats of the Bruce Selman Memorial Invitational Meet, a citywide track and field championship. As the only Asian-American competing, I heard taunts from fellow racers – "Hey kid, you sure you're in the right place?" – and could feel the crowd's dubious eyes on my back. Nevertheless, I lined up for my race. At the sound of the gun, I blazed down the track, breaking away from my competitors. The crowd roared "Oh! Did you just see that?!" as I crossed the finish line first and alone.

After the heats ended, the announcers began calling the names of the 100-meter finalists. I heard my name filter through the static of the intercom, so I jogged across the field to a meet official and asked where I should report for the 100-meter finals.

"Uh … what are you looking for?"

"The 100-meter finals."

"You're in the 100-meter finals?"

"Yes, I think I heard my name being called."

"Are you sure?"

"Yes," I answered firmly. He pointed to the far end of the field.

Again the gunshot roared. Again, as I ran, the finish line seemed to reach out and grab me like a winner.

Two years later, I awaited the 100-meter finals at the Manhattan Borough Championships, the culmination of six years of training. As I listened for "On your mark," I thought about what I had overcome to get here. Since that first race, I had stopped being timid and unsure of myself, and realized how good I could be. Now I know I can win because I have worked harder than anyone else. Many days, I went to school early to work one-on-one with my coach. I was the first person to arrive at practice and the last to leave. Slowly but surely, I rose up the ranks of varsity sprinters in Manhattan.

For six years, track has taught me the value of setting goals and working hard. Although I had doubts about winning the finals, reflecting about my track experiences helped me realize that no matter how seasoned my competitors are, I can achieve my goals through unrelenting diligence. With that in mind, I lined up for the Manhattan Borough Championships' 100-meter finals and waited.

The gunshot roared. As I ran, the finish line seemed to reach out and, this time, propel me toward success, my life.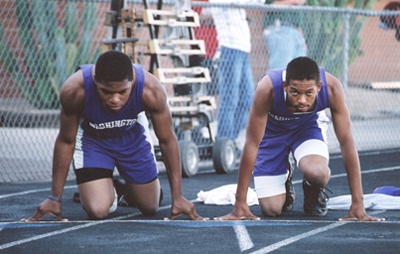 © Mark A., Phoenix, AZ