Sectionals 2012
April 19, 2012
Fairfax, Virginia – March 22-25. George Mason University has a unique swimming pool; nevertheless, it hosted the 2012 Eastern Zone Speedo Sectional Championship. This was something I had never experienced before. I would get to see things that most people dream of seeing. And I was there for two reasons. One was to help out my team by swimming in the relays. The second was to time trial a couple of events. This means to swim an event of your choice at the end of a morning session. The purpose of this is to get another chance to better your time in your chosen event. Although I served a purpose for our team, I mostly was there for the experience.

Sectionals is pretty much the more prestigious form of Zones, which I competed in last summer. There are much faster swimmers at Sectionals than Zones. This year they were held at George Mason University. The special thing about George Mason's facility is that instead of using chlorine to regulate the cleanliness of the pool, they use bromine. This gives it the unattractive, hotel pool smell along with the water's green color. Also, the meet was long course which means instead of one lap equaling 25 yards, one lap equals 50 meters. This may not seem like a big difference, but truthfully it was considering we hadn't trained in that size of a pool yet that season.

When I walked into the pool for the first time, the strange smell hit me immediately. As I looked around, there were people everywhere. There were people in the water, people on deck, and people in the stands. Also, the majority of the swimmers there were over 6' 2". I felt very small. I was pretty honored to be there due to the fact that most of the swimmers that I watched win the state championships were swimming.

The first night I swam as part of the 4x200 freestyle relay team. I did pretty well, but not as well as I expected. I reassured myself saying I hadn't practiced in this size pool in a long time. The next day was very big. I was scheduled to time trial the 50 Freestyle. It is one of my favorite events to compete in, so I was very excited. But first I had to get through the never ending morning session. I waited for 5 hours! It was fairly entertaining, though, because I watched 5 individuals get their Olympic Trials Cuts. These people will be competing for the opportunity to compete in London this summer! Finally, I warmed up, changed into my racing suit, and talked to my coach about my race. I was told to keep calm and confident. I did exactly this. I marched up to my lane, put on my cap and goggles, ran through my routine pre-race checklist, and got in "the zone". "The zone" is a place where you hear no one and see nothing but you racing through that clean water in your lane. The starter said "Take your mark" and the starting beeper sounded. I dove in and to be quite honest, I don't remember a thing. All I remember is touching, looking up at my time, and seeing my new best time: 26.31. I was ecstatic. Hopefully, this was an omen for the rest of my long course season this summer. I walked back to my equally happy coach, and he told me to warm down and rest.

The next day mostly the same things happened. I waited for a very long period of time in which I watched many Olympic Trials Cuts become obtained by various swimmers. Then it was my turn. I was time trialing the 100 Freestyle. The same procedure as the day before, but I felt a lot more confident. I got up on the block and did the same thing as in the 50. I waited for the beeper, and then dove in and swam my heart out. As I touched the wall to finish, I looked up for my time: 57.21. Another personal best! I was incredibly happy. My coach gave me the warm down which I completed with a smile on my face.

On the way back to the hotel, I asked my dad if we could stay for finals that evening just to watch the very fast swimmers. He agreed because he wanted to do the same thing. I slept well that afternoon. Excited and refreshed, my dad and I drove to the pool. Looking through the program, my jaw dropped when I saw that most of the meet records were held by current Olympians. The meet started and I was dumbfounded because in almost all of the events, there was at least one person that was going to Olympic Trials. The viewing for me was unprecedented.

As finals wrapped up, my dad and I packed our bags and headed home. Smelling a bit like a hotel pool and being very exhausted were two minor cons to the insane experience I had at Sectionals this year. I'm very glad I achieved my two best times in my time trials and also had a blast at the same time. All Around, Sectionals was probably the best meet I have swum in to this date.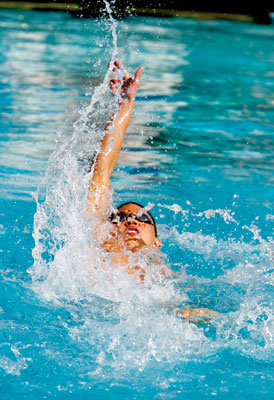 © Wenting C., Fremont, CA