It's Tebow Time
January 12, 2012
Two years has been too much for some people. For others, it's just the beginning.

Tim Tebow is 24 years old, and yet 13 years old girls are wishing to marry him. In fact, a couple of weeks ago, I saw a three year old girl in a wedding dress and veil asking to marry him on Youtube.


Before he was drafted to the Denver Broncos, he played for his college team the Florida Gators. In college, he used to put bible verses on his

The starring quarterback for the Denver Broncos is well known about his risky choices in games, and him being outspoken about his faith.

At a game, he "Tebowed" as people is calling it now. He knelt down, put one fist to his forehead and the other on his hip, and prayed to God. Thus began "Tebowing". There is even a website called tebowing.com where people post themselves "Tebowing" at different places like: Disneyland, Wal-Mart, and McDonald's.
There is also a plush Santa "Tebowing" and even a new father "Tebowing at his child's birth.

Why do people love him so much? Is it his faith, his looks, his football skills, his heart, or all four? He is just truly amazing. Maybe it has something to do with his 6 wins in a row and getting the Denver Broncos rated #1 in their division after only a little over 2 months on the job.
Mark Kiszla wrote an article in the Denver Post that said in one part, "Denver has gone from worst to first in the AFC West since Tebow was installed as the starting quarterback."

Others, though, can't stand him. Although most have never met him, they act as if he has spit in their faces. They have even made a website called tebowhaters.com.

Even though his playing is good, they hate him. He has made 10 touchdowns, and 2 interceptions. People are saying he has better stats in the last few games, than Elway had in his whole career.

Some are saying that he gets all the credit for the games the Broncos have won, but he says in every interview, "It was a team effort."
He isn't vain, greedy, or jerks like a lot of sports idols are.

He is a great role model. I read an article about Michael Jordan saying how he blamed just about every person in the room, even his kids to try and be funny. And this is who kids look up to? Most aren't better, you always hear about famous sports idols sleeping around and having drug addictions or problems with the law. Tim Tebow has confirmed he is a virgin, and he has never had trouble with the law or problems with drugs. He is someone kids should look up to.

People hate his religion too. One man blogged referring to the Broncos vs. the Jets game: "I'm always thrilled when the Jets lose... I hate them...What I hate more though is what Tebow said after winning, 'First and foremost, I want to thank my lord and savior Jesus Christ.

Last year he had sold more jerseys than any other quarterback had. Can you see why?

On Monday, a newspaper article came out by Mark Kiszla from the Denver Post saying things like The Broncos vs. The Bears game was a miracle and Denver played as if victory were preordained.

Some people think that he will never be better than Tom Brady or John Elway, but I don't know. A lot has changed that most people thought was impossible.

Many people hate him, but maybe it's cause they aren't happy for the Broncos. Why though? Don't you think we deserve a chance at the Superbowl? Don't you think we deserve to win for once?

He is definitely a miracle, whether you see it or not.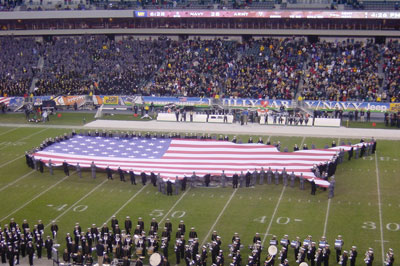 © Kristin B., Middletown, DE