Home Sweet Dome
November 28, 2011
On November 5th of 2006, I remembered sitting in section 132, row F, seat 8 in the Raymond James Stadium, the home base of the Tampa Bay Buccaneers. If someone was flying a plane above the stadium that day, they would see a sea of red and white. If you looked closely, you would see a microdot of black and gold. That would have been my family…
In 2001, my parents decided to take a year long vacation in Orlando. Needless to say, that year long vacation extended into a ten year vacation and my family is just now transitioning back home to New Orleans. Even though we made Florida our temporary home for almost a decade, we will never, ever convert to become Buccaneers fans as long as we ever live. It is because of a day like November 5th of 2006 that made me solemnly swear never to become a Bucs fan.
The James Stadium is just like most of its fans, loud and obnoxious. The superdome can be loud and obnoxious too at times but this stadium has a life-size pirate ship that shoots a fake cannonball every time the Bucs score a touchdown. I was only 12 when I went to this game and my mom recalls me being frightened to death because I always thought the sound the cannon made was an actual bomb going off. I was just waiting to see the SWAT team arrive. The features of the stadium are not the only things that scared me. The Buccaneer fans terrified me. In the 3rd quarter of the game, Deuce McAllister scored a touchdown which put the Saints ahead by 10 points. Many drunk and hot tempered fans started to become enraged. Some fans behind us were using explicit language and my town's pastor, who tagged along with us, asked them politely to be aware of the children around them when they talk. Well, one beer bottle thrown led to another bottle thrown. I witnessed my first NFL brawl. It was both a terrifying yet rewarding moment. The Saints won that game 31-14. We were most likely the only happy people in that stadium considering we were probably the only fans there from the winning team. You would think that angry football fans would not take their anger out on young children… Well, that is not the case in Tampa Bay. While walking to our car, drunk men yelled at me and my brothers, "You can't swim!" and "You are going to drown!". I found this incredibly insensitive and offensive. It had only been a year since Katrina and grown men started make sick jokes about the hurricane to children just because they lost a football game. I was so terrified that I hid behind my brothers and put my hands against my ears so I wouldn't be able to see or hear the fans that were harassing us.
Fast forward almost exactly 5 years later to the Saints game against the Buccaneers. My family and I are seated in Section 133 of the Superdome. The atmosphere is totally different than that of Tampa Bay. We did not need a pirate ship to shoot off cannons every time that the Saints scored to spark a roar among the crowd. Fans were hollering and dancing throughout every second of the game. The people sitting in your section became your family. You did not know their name or where they came from but you high-fived each other each time the Saints got a first down or a touchdown. I have come to the conclusion that it may be impossible to be truly sad during a game at the Superdome because the atmosphere is too positively overwhelming to overcome, unless you're a fan of the opposing team. There was only one fight in the crowd that the police had to assist with that game. And of course the person escorted out of the Superdome was a Buccaneer fan... The Saints proudly won 27-16. It was one of the most energetic NFL games I have ever experienced. Needless to say, I am glad to be back in my hometown, home of the Saints.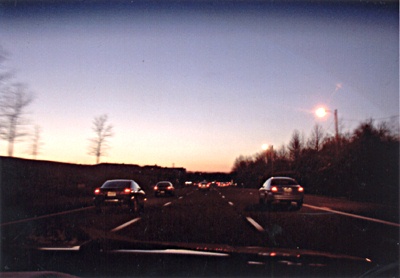 © Carolyn K., Toms River, NJ