Day in the Life
May 8, 2011
The blinding white light seeps through the room telling me the day has started. I push the soft blankets off and slump down the rickety stairs. Half asleep, I pull my tights on,then my velvety dress. I lunge my bag over my shoulder, and head out the door to the new morning. Raw and cold, I wrap my jacket around me. Visions of stress and chaos enter my mind. We start down the barren road, lumps of snow on either side of the sidewalk. We end up at a tin building I know well and is waiting for me inside. I step into the building to the hum of the generator, everything else silent.

I am in no rush to slip my beaten skates on. Slowly gripping the laces, I tie the last knot. I step onto the freezing white sheet I like to call home, and glide away all of my worries. In my mind, nothing comes to thought. The next ten minutes is nothing more than finding myself in a daze. Next thing I know I'm taking these sweaty boots off my numb feet, trying to make sense of all this. I clomp down down to the small room to enjoy the sweet taste of an orange. My skates hug my feet again, cutting through the rock-hard ice. My metal blades leave patterns of distorted nothingness. Then THEY walk in, like soldiers in the war, with prying eyes. I start to lose focus, falling left and right. Soon, it will be my time to shine, hopefully. I wait in the locker room for my destiny to meet me.

"Anna," I hear, but it's only an echo. Absent-mindedly, I pick up my legs up and head out the door to silent sound of ice.

"ANNA!"

That brings me right back down to earth, torpedoing to the ground. I'm quivering, and it's not because of the ice. But here I stand once again on this freezing mass waiting to meet my doom. (Victory?)

The world becomes dizzy as I enter into a whirlwind. I find my center, and it's time to fly. I pose, plaster a hopeful smile on my face, and take a breath.

All at once, I'm off, exploding off the unforgiving ground, everything coming perfectly. It ends, and I'm gasping for the air that doesn't seem to be coming.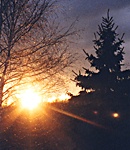 © Christy S., Germantown, NY