Carmelo Anthony Traded to the Knicks
March 23, 2011
The Knicks traded away Danilo Gallinari, Raymond Felton, Timofey Mozgov, and Wilson Chandler. For Carmelo Anthony, Chauncey Billups, Anthony Carter, Sheldon Williams, and Renaldo Balkman. Why did the Knicks do this? Because the Knicks think that this is what will help them improve their record.


The Knicks now have to two people that can pick up thirty points a game. It's going to take time for the Knicks team to get used to each other. Having two superstars on a team doesn't always mean that there going to win all their games and be the best team.


At Carmelo Anthony's Knicks debut the fans were happy to have him at the garden. That night when the Knicks won 114 to 108 over the Milwaukee bucks. The seats were packed and the crowd was booming. "Melo" chants filled Madison Square Garden. Knicks fans have been waiting a long time for Anthony and now he is here.

The Knicks will end up being a stronger team with Carmelo. Not only will there be two people that can score but it will draw more open men. The Knicks may not be that great of team this year. But they will get better and maybe next year they will be a top team.

Will Carmelo Anthony be the answer for the Knicks? Will Carmelo Anthony lead the Knicks to a championship? All these questions are being asked. The Knicks are just going to have to wait and see what happens. And keep playing strong.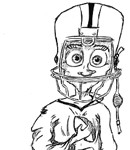 © Steve B., Hull, MA