Our Last Race
MAG
December 15, 2010
To my left, I see an official. To my right, another anxious team. Straight ahead is an empty course. Not just any course – the Kentucky State Cross-Country Championship course. And it's about to be torn apart by hundreds of racing spikes.

Knowing this is the last race I'll ever run with my close friends Mike and Kyle gives me a whole new mindset. In this last race of the season and their high school careers, for them, I will pull my weight to get our team on that stage.

Five and a half months of training, two months of racing twice a week, and all those memories, all come down to about 18 minutes. No pressure, huh? More like, more pressure than you can believe.

The official stands in the runners' path, flag in one hand, gun in the other. It hits me that this is really happening. No time for nerves.

"Runners, step up to the line. If there is a false start, or if someone falls within the first 100 meters, return to the line."

I don't know how many times I've heard these directions, but this time they seem different, more important. At the sound of the whistle, the runners, like a herd of elephants, take three steps toward the line, our hearts pounding. I remember why I'm here, how I got here, and what I need to do.

The gunshot sends us off like horses in the Kentucky Derby. Getting out hard and fast is critical. If I've heard it once, I've heard it 30 times: Get out hard. Not too hard, but fast enough that you won't be trapped in the back. The first mile is run with your brain. And just like that, we're at the first mile marker. 5:31. My thoughts: Too slow; move faster.

Hearing the crowd is indescribable. Goose bumps cover my body. Picking up speed, I begin mile two. I need to get back on pace. Mile two is run with your heart. Move up now; this where you have to stay strong mentally. After advancing a few places, I feel excellent.

I'm almost finished with mile two. Quick math tells me I slowed down by about 15 seconds. I'm not feeling so great. Coach is quite the sight, jumping outrageously, yelling at the top of his lungs. I know I have to catch up, but my legs feel weighed down and I feel a side stitch coming on.

The third mile is all about your guts. I'm tired and hurting, but I have to keep going. I think about the Steve ("Pre") Prefontaine quote: "I'm going to work so that it's a pure guts race at the end, and if it is, I am the only one who can win it." I know I'm not going to win, but I will win the race with myself.

Staying motivated, I pick up the pace and start to kick. I have to go now. Giving everything I have is what I'll do.

I see the finish line getting closer. To avoid vomiting, I try to swallow, which only makes it worse. I sprint as hard as I can. Just a bit more and I can stop, shut out the world, rest.

Just like that, the race is over. Barely making it through the chute, I cling to Coach to stay upright. Tears fill my eyes.

"You did all you could, Conner."

Hardly able to speak, I mutter, "No. It wasn't enough."

Judging by my teammates' faces, I can tell we didn't do as well as we hoped. I can't help but blame myself, despite their supportive remarks. I apologize repeatedly for not pulling my weight.

We end up placing sixth overall, making us Public School State Champs again. It's not what I was hoping for, but that's okay. I would trade a trophy for my team any day. They are my best friends. My family. My life.

What do we do now? Live in the past? Write personal narratives about doing what you love most with the people you love most? About friends becoming best friends? About the season of 2010 and how much it meant to us? Sure. I guess so.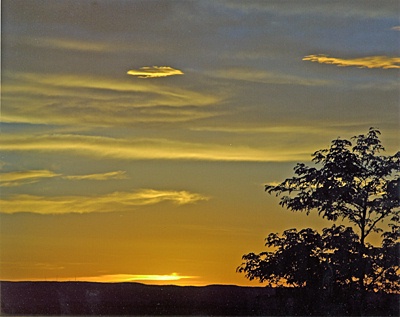 © Elizabeth B., Wichita Falls, TX