A Day To Remember
November 18, 2010
The excitement in the air was electric. An over-load of emotions exploding through my body, it tingled my limbs and made my hands quiver. The boat surged forward, again and again with every strained gasp of breath from my crew we sliced through the water, closer to that finish line we all hunger after; eight lanes with every desire to prevail. Once again I thought about the pressure, the immense weight of hope placed upon my life-jacket covered shoulders, given to me by the trusting looks and optimistic whispers from parents, coaches and teachers without even meaning to. I felt their wishful optimism burn with every vague hand gesture and nod in my direction as we rowed away from the pontoon. This is what kept the fire blazing in my heart and the need for our bow-ball to sound the buzzer first, alive and intense. The want to triumph is passionate. And I had a lot of passion. "Pick it up girls! There's only 200 metres to go...leave it on the water and get us a medal!" I received strained grunts and the sound of bubbles flittering under us as a reply. I stretched my chapped lips into a crooked, goofy grin. My wide hazel eyes darted a lingering glance at the boat competing beside us, and I felt beads of sweat gather on my sunburnt forehead.

This was it. I thought we had lost them by at least half a boat length, but I had thought wrong. They were our mirror image; every oar synchronized, lungs wheezing for air, and the powerful yearning for a win filled the tension with shrilling from their coxswain. This was it.

"There's a boat right beside us. You need to sprint it home girls, l-o-n-g and s-t-r-o-n-g! Don't lose it for us bow side, keep it smooth. Eyes in the boat. I can't hear ya breathing girls! Balance on stoke side; watch your hand heights... " I kept talking, and kept talking. Our course was straight and the boat was flying however I knew it may not be enough, as the crew beside us had picked up the pace, and again, was mirroring us with every stroke. The fluttering butterflies that had once been trembling in my stomach were now gnawing on my insides, and the first tear of many cascaded down my cheek, followed my a mighty river of salty emotions that dribbled down my chin and dropped off onto my navy blue Te Awamutu Rowing t-shirt. But I was smiling under the waterfall.

The ferocious cheers from red-faced supporters fell onto deaf ears as we were just mere metres away from the finish line. There was nothing I could do. Always, there a silence when the last metres are crossed and the coxswain accepts that there is nothing left to be said or done, nothing left but naked anticipation. The sound of oars going 'thwack' as they drop them out of the water, reach forward, put it back in and take a stroke. Hungry water slapping the side of the yellow boat as we sit finished -but too close to call-, uncertainty burns in our veins as we wait for the result. The ecstatic wail from our watery-eyed coach and the "Whoop whoop!" from my crew. My pathetic sobs and whimpers, as I try to recover from the severe load of raw emotions galloping through my tingling body. We have won. The honest "Congratulations." Given to us by the other crew and our smiling faces as we congratulate them on the best race of our lives. We have won. Bone-crunching hugs and tears of joy on faces we thought owned none. We have won. Sweat glistening off winners' bodies, proud smiles hanging off exhausted faces. We have won.

The speakers announce "Winners of the Novice Club Coxed Four North Island championships." Proud faces, clicking cameras, golden medals given to golden girls. I'm still blubbering, the cold metal feeling wonderful around my neck, my quivering fingers tracing the surface. It feels so good.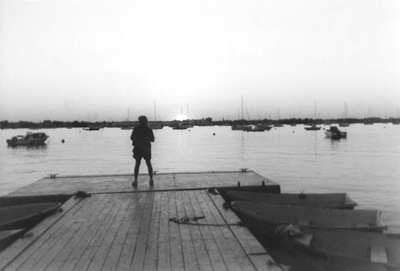 © Lindsey D., Marblehead, MA