Five Pairs of Watchful Eyes
October 15, 2010
"Hurry up! It's time to go!" My dad shouted as I shoved the last little bit of toast in my mouth, jumped up from my comfortable chair, and raced off to the car. I slammed the car door closed with a loud bang! We were off. I had butterflies in my stomach and my heart was pounding. I had never been so nervous in my life.
We were being watched by five pairs of coaches' eyes. This was soccer tryouts. Girls in bright, smelly orange pennies were running frantically everywhere trying to get in some sort of formation. The sun was blaring right in my eyes. I screamed for the ball anyways, "Riley! Pass it out wide!" Suddenly, the ball plummeted to my feet and I was flying down the field. The wind slapped my face—making it hard to keep my eyes on the goal. In my pursuit to get to the net I crossed the ball right in front of the net, Emma cried out, "I got it, Mine" as she forced the yellow, white, and black ball into the back of the net. Score!
We continued to scrimmage. It wasn't much but it would show the coaches everything about how we played. Sweat trickles down everyone's red hot faces as they try to gasp in all the air that they can, like it's their last breath. We were sprinting, pushing ourselves to the limit, and screaming for the ball. You could tell we were all working hard to be the best.
"Water break!" A coach yelled out. The water was cool and refreshing running down my dry throat like and ice cold waterfall. Before I knew it we were called back to the field.
Now I was defending. A girl was flying towards me. The ball that she was trying to control was jumping up and down. Then I slowed her down, grabbed her shirt, (so that no one could see) and gave her a quick little shove to get her off the ball. I quickly passed the ball off and we were back into attacking mode. This went on for about another hour and we were done.
Some girls already knew that they had made the team. I hadn't heard a word about myself though. Which resulted in my hands trembling as I tried to keep a smile on my face walking away from the field. You could definitely say that I was on edge. But I still had some confidence in myself. I've got this one. I've been working too hard to not to make it. I thought.

4 hours later…

When I got there we started after a few minutes. This session of tryouts was all about technical stuff. Technicals are not my strong point so this made me super nervous. Why? Why? Why do we have to do technicals?! I thought. Everyone lined up on the end line. I tried to mix into the middle. I kept focused on what I was doing. Outside, outside, inside. Outside, outside, inside. We ended tryouts with a little more scrimmaging. But there was still the long wait after tryouts to get the results. My friends and I decided that we should go to ice cream since the results wouldn't be officially out until 10 that night.
After ice cream it seemed like a 2 hour drive home when really it was only about 10 minutes. I got home and took a nice hot shower and tried to relax. I was coming down the stairs to go and see if the results had been posted online yet but they hadn't. I didn't know what to do. I finally decided that I would go and watch some TV.
Then a little later my dad and sister walked in the room with we-are-so-sorry looks on their faces. I was thinking the worst. It seemed to be forever, we were just staring at each other. Finally, my dad decided to break the news to me. He started with "Honey, I'm sorry but……. YOU MADE THE TEAM!!!!!!!!!!!!!!!!!! Congrats!" The biggest smile wiped across my face!
My heart was pounding and I had butterflies in my stomach but it wasn't from being nervous. It was because I was excited!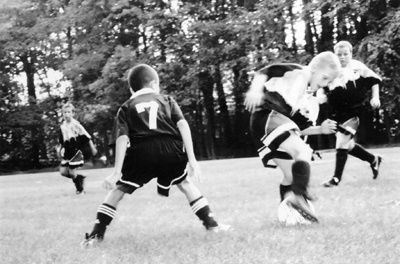 © Daniel W., Mount View, NJ