In the Dust
September 28, 2010
"Keep it up, Jocelyn. You're doing great." Like I was going to believe that lie…
I was in my first cross-country race. I was in dead last.
My legs were haggard with fatigue and my lungs could hold barely enough oxygen to keep me alive, or at least that's what it felt like. The only thing that was running through my mind was "Just finish, you're last anyway." After I finally did finish, 4 minutes behind the runner in front of me, a lowly wave of guilt and embarrassment washed over me. I couldn't bear to show my face to my team, not after that finish. It took every ounce of what was left of me to keep myself from bursting into tears.
The next day at school, the results from the race were broadcasted to the entire student body. Now everybody knew that I sucked at running, the one thing that I hoped with all my heart nobody would find out. It was clear as the blood rushing to my cheeks after I heard my name and my time. Even when I was running for practice, I couldn't hide my guilt. I couldn't hide it though my teammates were at least 300 meters in front of me. My deepest feelings always found their way to the shallow end in me.
No matter how fast I ran in my next races, my guilt always kept stride with me. Without breaking step, it kept its spot right next to me. Every time I would hear that my team came in a low standing, my guilt ate me alive. It got to the point where I was just about to take the easy way out and quit running altogether. I didn't want to have to make my team suffer from my weakness. I convinced myself to finish off the season before making any decisions.
At the starting line of my next race, my heart raced as the starter raised the flag. I took one final breath as he pulled the trigger and I dashed away. After about a minute, I could already see that I was in the back end of the mob of runners. That was when my guilt started to catch up with me. I could hear its footsteps coming up behind me. Then, all of a sudden, something inside of me clicked and said, "Not today, Jocelyn. Today, you are going to beat your Guilt. You can do this." That one positive thought gave me a feeling I had never felt before. I felt as if I could beat the odds. I felt what my guilt had kept from me: strength.
I left Guilt, in the dust, and finished the race with a new personal record. I had beaten my old one by over a minute. Every race after that, I beat my record. I gained respect for the sport and I still run it today. This is my sport, this is what I do. I am a runner.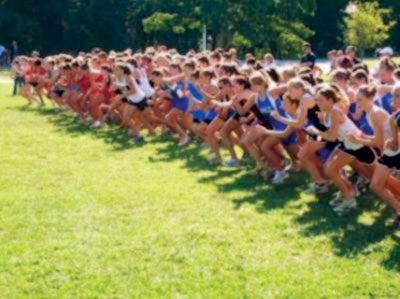 © Ashley R., Charlotte, NC