Bad Move, LeBron
MAG
September 19, 2010
Not even A-Rod's ego is this big. With his ridiculous, over-the-top, robotic TV "special" on ESPN in mid-July, LeBron James announced his decision to sign with the Miami Heat. Was this the right move, LeBron's Flirt with Disaster?

By signing with Miami, LeBron joined arguably some of the best players in the NBA – Chris Bosh and Dwyane Wade. Many believe that to mix with two highly skilled players is a great move for a player craving an NBA championship. However, others see this as detrimental not only for LeBron, but Cleveland, Miami, and the NBA itself.

Drafted as the first overall pick out of St. Vincent-St. Mary High School in 2003 by the Cleveland Cavaliers, LeBron immediately began laying the foundation for a massive fan base as well as reviving Cleveland, Ohio, as a dominant sports city. Though it would take a few seasons, he led the Cavaliers to the playoffs and was minutes away from his first trip to the NBA finals. After failing to grab a ring, LeBron longed more than ever for another chance at victory.

Ever since the Cavs' defeat by the Orlando Magic in the 2009 Eastern Conference Finals, there was talk about where LeBron would sign when he became a free agent. Would he re-sign with Cleveland or go elsewhere?

LeBron's move to the Miami Heat is an unfortunate one. By leaving his dedicated and vast fan base in Cleveland the way he did, never again will those fans cheer for him and his trademark chalk blow into the air before every home game. The team will have to find another player capable of what he did on the court. Yes, LeBron could score and rebound. However, it was the way he improved his teammates that will be missed most. He not only made himself look good on the court, but he had that rare ability to make the rest of his team better.

How does LeBron's move to the Heat affect Miami? The Heat's chances to win the NBA Championship did, of course, skyrocket when he signed. However, I think there will come a time when LeBron's ego will get in the way of his playing. The Heat is Dwyane Wade's team, not LeBron's. It's hard to imagine him playing second in command to Wade. LeBron's signing with the Heat messed up the solid chemistry between Wade and Bosh.

How does this affect the NBA? It ruins the delicate balance of competition in the league. In previous years, the superstars were spread out on different teams, thus creating their own fan bases. Now, the balance has been direly shifted, and this will only lead to disaster for LeBron and the Heat.

In the end, LeBron, you made the wrong move. You should have stayed in Cleveland where you belong. Cleveland will miss you, if they haven't burned your #23 jersey by now.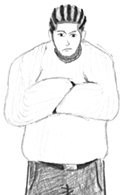 © Ryan W., Philadelphia, PA