The Evolution of a Runner
August 4, 2010
Ever since I was a young child I never thought of myself as "sporty". The one and only sport I ever engaged in was 2nd grade soccer. I am unsure as to why I never continued, as I wasn't too bad at it, and I had quite a good time. I even earned the team nickname "Mr. Hustle". Better than our goalie's, which was "Mrs. Butterfingers". No joke. I probably stopped playing because I outgrew my old cleats and didn't have the motivation to go out and buy new ones. This lack of self drive would shape my future in a way I would never have expected.


From 4th grade, through the beginning middle school, my parents had me walk to school from our house, which was a good 20 minute walk from school, if you had little short legs, which I did. In between our house and that citadel of learning was a fair sized hill, which in those days seemed enormous. Even though I was fully aware that I had this long walk ahead of me, I was never good at waking up on time. My dad would have to come in and "encourage" me to get up at least twice each morning. In fact, it could have been the prospect of such a long walk which prompted me to delay the inevitable. Whatever the reason, I consistently stepped out of the door with less than 15 minutes to make it to class. So I would run.


Back in the day, I was the proud owner of one of those rolling backpacks, the kind that has the collapsible handle that disappears so cleverly into a back compartment and has two little scooter wheels attached to the bottom. While convenient for walking between classes, it was certainly not designed for long distance racing. As one might imagine, running with one arm pulling along this weighty backpack filled with books and markers and other such necessities of childhood, was not easy. Nor was the fact that the ground was rather uneven, with a good amount of cracks and bumps for my backpack to bounce over. More often than not, it would flip onto it's back and I would end up dragging it along sans the benefit of wheels for a good 15 feet. I was wearing through backpacks faster than my parent's could believe.



Despite the horrors I endured, I did reap one benefit from all this running, or so my dad enjoys saying. I, and I quote, "developed my aerobic capacity at a young age, setting the opportunity for excelling in future physical endeavors". I simply say that running when I was little made me fast when I became big. Much simpler.


Whatever the reason, I didn't capitalize on this development until last year. All through middle school, and the beginning of high school, I would come home every day after class, finish my homework, and sit around vegetating for the good remaining 4 hours or so I had until my bed time. Life got boring. Unbearably boring. Then my mom decided that since I had so much free time, I might as well start helping her around the house, cooking, cleaning, doing laundry. I wasn't even married and I was already being domesticated! I had to get out of there. Fast.


So when I was encouraged to join Track, which I'd always imagined was a rather foolish, masochistic sport, I decided, what the hell, and went for it. Had to be better than tennis. I mean come on, any game a girl can play in a skirt can't be a real sport. For a while it sucked, plain and simple. The only thing that was nice is that I got to spend 3 hours a day with people I wanted to be around rather than peeling carrots or folding laundry. Eventually it became evident that I was actually "good at this game" as they say, and lo and behold, life became so much more interesting. Possibly one of the most memorable experiences of my early running career is beating one of my middle school friends who had gone to our rival high school in a race. This guy had beat me every single time we had run the PE mile, and wasn't shy about rubbing it in my face. The sweet taste of victory that overcame me when I crossed that line overpowered the urge to heave out my lunch on the turf, which so often comes hand in hand with running.


And so, born from my lack of motivation was a runner. Never once in my life did I imagine that I would find myself sweating in the heat after school to the tune of the strident berating of our os so encouraging coach every day. I suppose "Mr. Hustle" was more than a childhood nickname.

Almost two years after I started running Track, I've made some incredible discoveries. One is that, running with both hands free and no dead weight to pull allows you to cover ground much more quickly. During my sophomore year I won the DFAL League Frosh/Soph XC, and Track Mile and 800 championships. Finishing up my sophomore year with a 4:38 mile time, I'm certainly a far cry from that little 6th grader running to school, but I'll never forget how I started.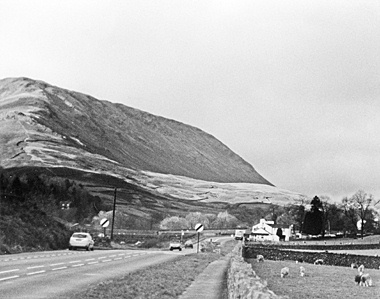 © Eleanor J., McLean, VA