Run With Me
MAG
July 22, 2010
I run outside in my blue Brooks. I run under bridges, between cars, on the ice, through the woods. I run in the summer heat and the crisp fall air. I run north-northwest, where the wind slaps my face with each stride.

I run, and they say I'm sprinting. I run, and they say I'm not trying. I run for enjoyment, for spirit, for an escape from my temper. Running is what I do when I don't want to be stopped. Running is my ticket to freedom; I run with no worries.

I run on the track upstairs. I run around the school. I run between chain-link fences; I run the bases. Coaches make me run suicides, as if that's a punishment for me. Running makes me stronger; running makes me weaker. For the price of raw energy, running keeps safe the reward of endurance. An inside-out catch-22, maybe that's what running is.

I ran barefoot after an ice cream truck. I run up and down hills with my dogs. I will run as long as my legs let me. I ran on the beach in Florida. I ran with my teammates through a foot and a half of snow. I ran after a dream: to play college softball. As a toddler, I ran after my father so that he wouldn't leave me. I ran in Chicago and had a near miss with an oncoming train. I ran cross-country, and I have run many a timed mile.

My car engine runs. My cell phone battery runs out. I am always running late. I went running after a boy. I ran as fast as I could from love.

I run in the hopes that life will drain from my lungs and I will be reborn. Running gives me nothing but everything, because when I run, time stops. Run with a stopwatch, run without. It won't matter if I finish first, because I still ran.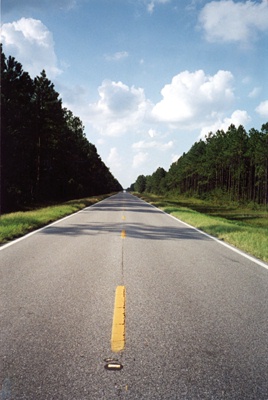 © Amanda M., Coventry, RI