Playing for the Opposition
May 13, 2010
My black Chevy Suburban rolls into the parking lot. Before my eyes lies the perfect cut baseball field in which I get go play at. Leap out of the truck I snatch my Nike bat bag out of the trunk. Suddenly I feel the familiar butterflies in my stomach. I've never played with these guys, they've always been my enemy, now I am playing with them. It's the all-star team of the area, combined from three schools. I'm already excited and full of adrenaline ready to showcase my ability, ready to lead my team to a state championship.

"Austin playing second batting eighth, and Moe playing right batting ninth," coach Roosen spit out the end of the batting order. I didn't hear my name. I got selected to a team and sit on the bench? One part of my mind was racing with disgust, but the other part of my mind says give it all you got when you chance comes to yourself. My second chance was not our first game, but it was in our second game.

On my hometown team I bat leadoff and play second base, so obviously I thought I would be playing second, and I thought I was going to be batting eighth or ninth. Coach got done reading off the order and I was batting leadoff and play centerfield. I was doing my usual pre at-bat ritual when my teammate, Sam, says to me, "Hit like you do against my team and have fun." I just finished my usual tap right foot tap left foot in the batter's box, and now I'm in my zone, nothing distracts me, I zone everything out, the first game, the opposing pitcher's speratic delivery, I know that I'm going to get a hit. A solid frozen rope back up the middle, 1-1 always a good way to start the game. The third inning comes along and I find our team down two with the bases loaded with two outs and me in the batter's box. The pitcher is sweating bullets, I can tell that he is rattled and I want to finish him off, bigger, bigger, that's what the ball is looking like when I put the barrel of my DeMarrini bat on the second with a three RBI double and a smile ear to ear plastered on my face.

5-5 is how the game ended up for me, I had four singles one double, and four RBI, and a feeling of acceptance into my team. I felt that this team had a chance of not only winning our next game but the whole tournament, and to be crowned state champions. We did have that chance and it was the semi-final game. Win and you make it to the championship.

We walk to the field for our semi-final matchup against win from the get Shoreview. Shoreview was the favorite form the get go, they were sponsored and had all the top-notch equipment, and us we had different everything. Some kids grey, some white, even a couple pin-striped pants. Our team was green and most of us wore red cleats because of our regular teams that we play on. The way we saw it, you should let your baseball skill determine the winner, not your uniform.

The Shoreview game was close from the start. 1-0 our lead, next inning its tied 1-1, back and forth was how the game went. But the next thing we knew it's the seventh inning and my team has the lead 3-2. Our ace was on the hill and we had two outs with nobody on base. All we had to do was get one more out. Ground ball to Alex at shortstop, he fields it nice and clean, fires it to first but way over the six foot tall Kevin. Sam looks a little shaky he walks the next guy. Now runners on first and second, that's when the Shoreview ropes a stinging line drive down the first base line. Moe dives for it but it was for nothing the ball hits the 350 foot fence and the kid has a double, and we lose.

That whole experience taught me a lot about myself. I thought I was shy and unapproachable, but I made nine new friends, kids I thought that I hated but really they were just like me. Playing on this all-star team helped me with finding myself, and I learned never second guess yourself about anything whether it be in baseball or in life.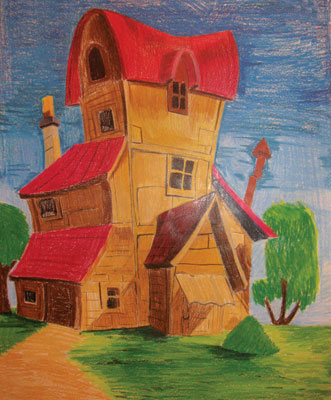 © Ronald W., Sherman Oaks, CA