The Penalty Kick
April 6, 2010
My heart pounded inside of my chest. I wiped my bangs, wet with sweat and rain, away from my forehead and back into my head band. I knelt down and picked up the black and white, wet and slippery in my shaking hands. I knelt over and adjusted it on the white, chalky penalty dot in the center of the goal box, exactly like I always did.

It was just me and the goalie. The mud squished under my shoes as I took four slow and careful steps back away from the ball, just like I had practiced so many times. But this time, it wasn't practice. This was a real game, a real aggressive one too, if you ask me.

The rain started to fall harder against my face. All I could hear was the rain and the coach yelling.

"LEFT CORNER, COURTNEY! YOU KNOW THE DRILL!" his familiar voice stirring the butterflies in my stomach, but I did, I knew the drill.

The whistle blew. My heart jumped into my throat. I charged twords the ball. I couldn't hear anything going on around me. I couldn't hear the coach screaming instructions, or the crowd with their encouraging shouts, all I could hear was the pounding of my heart, and the thumping of my cleats. Nothing else mattered right then, nothing other then the ball ending up in the back of the net.

I came up next to the ball planted my left foot on the side and kicked as hard as I could with my right. My heart stopped. I watched the ball sail towards the left corner, and the goalie was diving for it.
"Oh no," I whispered. It was a miss. A sure miss.

The ball sailed right inbetween the goalies open hands with just enough space for it to travel through.

The next thing I knew I was laying on the muddy field, with all my team mates on top of me. All of us, covered in mud, cheeks streaked with tears of joy, of happiness.

We knew we were going to State Championships.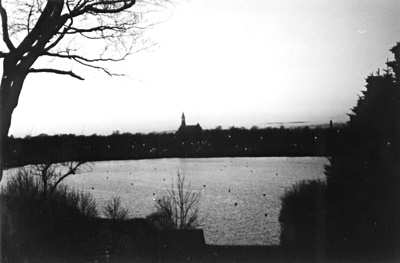 © Julie P., Marblehead, MA