History Made
March 28, 2010
Have you ever watched the 1976 Olympic Games? During those games, two records

were made. Everyone was shocked! The person who made those records was Nadia

Elena Comaneci. She is an Olympic gold medal champion. Did you know that one of

her favorite thing to do is to go fishing? She was also a contestant on the show

Celebrity Apprentice. Nadia Comaneci is known as one of the top gymnasts in the world,

but with that title came contentment along with adversity.


Nadia Comaneci was born in Onesti, Romania on November 12, 1961. Her dad,

Gheorghe, was an auto mechanic. Her mother, Stefania Comaneci, came up with her

name. Mrs. Comaneci was watching a Romania movie and the Romanian heroine's

name was Nadia. Soon her daughter was born, Nadia Elena Comaneci. The meaning of

her name Nadia is "hope." When she was born, Nadia had a blister on the top of her

head. The doctors didn't think she would survive but she did. That's why her

grandparents thought her name should mean "luck" (Comaneci 4) instead of "hope"

(Comaneci 4). Nadia later had a brother named Adrian.


How did it all begin? Nadia began taking gymnastics in kindergarten at the age of

six years old. The Flame was her first gymnastics team that she joined. Later on, her

new coaches Bela and Marta Karolyi put her into a young gymnasts group. Whenever

one of her coaches asked her to do something, she did more. For example, if he or she

asked Nadia to do twenty-five push-ups, she would most likely do fifty push-ups. "I

don't run away from a challenge because I am afraid. Instead, I run toward it because the

only way to escape fear is to trample it beneath your feet" (Comaneci 69). In the year

1969, she competed in her first gymnastic competition. She entered The Romanian

National Junior Championship at age seven. Her big competition wasn't until 1970. She

entered the National Championships at the age of nine years old. She fell off the beam

and got a low score but won the competition for her team. She came in thirteenth place.

In May 1975, she competed in the European Championships. Nadia won four gold

medals and one silver medal. She even won all-around European title. She beat

the current Olympic Champion of that time, Lyudmila Turischeva. In March of 1976,

she competed in the American Cup competition held in New York City. Nadia won that

competition and also won a silver cup. The American Cup also helped her to get ready

for the Olympics.


In 1976, the Romanian team arrived at the Olympics held in Montreal. When

Nadia landed a perfect routine off the uneven bars, the judges gave her a 1.00. No one

knew what that meant. Bela, her coach, thought the judges gave her a bad score. The

reason for the 1.00 was because the scoreboard wasn't programmed to go that high. No

one thought there was a reason to put a 10 on the scoreboard. Nadia Comaneci was the

first person ever to receive a perfect score in Olympic history. During the games, she

received a total of seven perfect scores! At the end of the Montreal games, she won all-

around gold medal, individual gold medal on the beam and bars, and a bronze medal on

floor. Nadia Elena Comaneci made history.


Even though she made history, she had problems in her personal life. She gained

weight, which was from teenage years and eating too much. Her parents were having

trouble in their relationship and got a divorce. Rumors were also going around that she

swallowed bleach and tried to commit suicide. Those rumors were all false. What

happened was a woman stopped her outside her apartment and asked where Nadia was

going. Nadia said that she was going to get some materials so she could do her laundry.

When she came back, people were asking her, "Where are you going, Nadia?"

(Comaneci 67). Nadia didn't like being watched all the time so she said "I should just

drink this bottle of bleach and commit suicide. Please leave me alone!" (Comaneci 67).

From that statement rumors began and some people today believed that she drank

bleach. All her misery affected her gymnastics. Her lifetime coach asked her if she

wanted to come back. She said yes but the journey to get back in shape and to be able to

do her skills was going to be hard.


Nadia trained really hard to get back in shape. She competed in the World

Championships but her team did not win. She did not do as well as her other

competitions. She was disappointed in herself. Five months later, she competed in the

European Championships and won a gold medal. Nadia also competed in the 1980

Olympics in Moscow, Russia. She fell off the uneven bars during her routine which was

her best event. At the end though, she won two gold medals and one bronze medal. In

the year 1994 she retired from gymnastics.


When the Romanian team went to compete in New York, Bela, Marta, and her

choreographer deserted Romania because the government was treating them badly.

Bela wanted to protect his family. When the team flew back to Romania, the government

thought Nadia would escape, too; therefore, the government did not allow her to travel to

western countries. In late 1989, Nadia, 27, met Constantin Panait, a born Romanian. He

defected Romania and went to the United States and moved to Florida. Constantin was

helping other people from Romania defect, too. Nadia decided she wanted to defect so

she went to him for help. Nadia and five other Romanians went through a long journey.


The six Romanians traveled through the cold November. When they

got to the Hungarian border, the police caught them. The police recognized who Nadia

was and said that she could stay but the others would have to go back. She said "I will

only stay if the group is allowed to remain in your country" (Comaneci 142). The

Hungarian police officers agreed. They stayed the night in a different hotel than the

police recommended. The following morning, they were off to the Austrian border

which was a six hour drive. The six Romanians had to climb over a wired fence to meet

Constantin and his friend, who were waiting on the other side with their cars. Finally,

everyone got to Austria. Everyone else stayed in Austria but Nadia and Constantin. She

wanted to go to the United States and he knew it. They went to the American embassy in

Austria and finished the required paper work. They sent her on the Pan Am flight which

was first class. She arrived in New York.


Good things were happening to Nadia. Constantin let her stay with his family until

she was settled. Later, she stayed with a Romanian friend Alexandru, and his wife. They

stayed in Montreal. Nadia later moved to Oklahoma and moved in with Bart Conner

(Olympic gold medal winner) and his former coach, Paul Ziert. Paul later became her

manager. Paul set up endorsements for companies like Danskin. After spending four

years with Bart Conner, they got engaged in 1994. They were both vacationing in

Amsterdam when Bart decided to ask Nadia to marry him. He took her to a restaurant

and proposed to her. She didn't know what was going on because Romanians didn't do

things like that. She said, "Oh no, oh my God. Yes, of course I'll marry you" (Comaneci

165). They both went to Romania to tell her family the news. Two years later on April

27, 1996 in Bucharest, Romania they were officially married.


Her life was continuing to get better. Nadia was inducted in the International

Gymnastics Hall of Fame in 1996. In 1999, she received the World Sports Awards of the

Century and the Women's Award in Athletics and General Sports. In 2000, she became

the first athlete to speak in the United Nations to launch the International Year of

Volunteers (Internet Movie Database). Nadia and Bart currently live in Norman,

Oklahoma and run a gymnastics academy. On June 3, 2006, in Oklahoma City, she gave

birth to her son, Dylan Paul.


Nadia Comaneci has many awards and achievements. She has five gold medals,

three silver medals, and one bronze medal. Nadia earned seven perfect scores in her

Olympic career. In 1976, she was awarded Associated Press Female athlete of the year.

She won the IOC Olympic Order Award in 1984. In the year 1991, she got inaugurated

in the Sudafed International Women's Sports Hall of Fame. In 1996, she was flattered as

an unforgettable Olympian in Atlanta's Opening Ceremonies (Green 17). Nadia is the

youngest ever all-around champion in the history of the Olympics. This record can never

be broken because the age limit to enter the Olympics is sixteen. She also has two

gymnastic moves named after her. The "Comaneci Salto" and "Comaneci Dismount" are

the two moves which are both on the uneven bars.



She started with cartwheels on the playground and ended up doing flips at the

Olympics. Nadia didn't have an easy life. She had troubles but she also had cheerfulness

in her life. She also has many accomplishments. From one of her quotes she said, "Do

not pray for an easy life, pray to be a strong person" (Internet Movie Database). Also,

she said, "…Devastated is a word I don't even know. Everything in life can be fixed

somehow" (Comaneci 79). For Nadia, it was. Her life turned out to be what she wanted.

Nadia Comaneci is a top gymnast in the world but more than that, she is inspirational and hard working.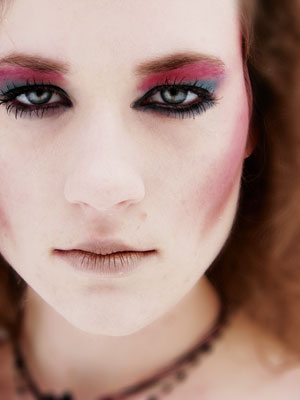 © Elizabeth H., San Bernardino, CA