Sanctuary: One Ball. One man.
February 17, 2010
Heaven on Earth, there is one
Walk with me and you will see
One place that I love to be
I step on to, and my world is free

Ok. Now lets get to the point. The sanctuary, my place of refuge, would be a court made of the finest wood and two baskets on each end that have the power to bring out every emotion inside of me. You might have already guessed it, it is a basketball court. This is my consecrated place. When knives are protruding through my skin, from every angle, I usually find myself on a court letting my emotions fly with the brown sphere upon my hands. As the brown sphere of magical power passes through the basket making a "Swish!" sound, I find myself releasing another emotion from with-in.

In time I have found that it is easiest for me to find a court and release these inner emotions I often have trouble sharing with other people. In a way, I share my emotions with the court, ball, and hoop. They do not judge me; yes, they are only objects, but still they do not judge. Most of the time I am swishing it up like Carmelo Anthony on a hot night…haha just kidding. I am not nearly as good as he is but I am positive we share the same emotions on the court. I may not be good at shooting hoops or cutting through a line of defenders to get a lay up, but I still enjoy being on the court. When I step onto the floor of a court, my emotions subside, and I am ready to learn. I forget about many, if not all, of the things going on in my life. For me, that is where the fun begins.

This a way for me to learn how to deal with life and its cruel ways. Yes, I do not know what it feels like to shoot the game winning shot in the playoffs, and I do not know how it feels to deny the shot or lay up that determines the outcome of the game, with thousands of fans watching, but there is one thing I do know. I know that with the ball in my hands, and the hoop staring me in the eye, I have the power to wipe every single emotion away with one shot.

It is true when people say let your emotions fly. This is one sport that really does let your emotions fly, either by doing something crazy or something risky. I believe this is why I fell in love with this sport. This is about the only thing I have when I find myself lost in depression or stressed out. When I am lost it will always help me find myself again. I will never stop loving the game of basketball and it will always be my sanctuary!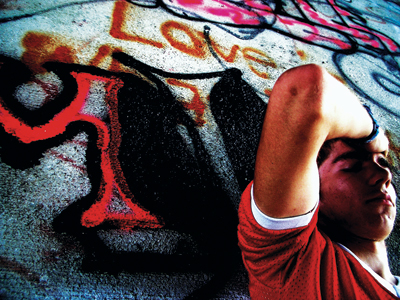 © Sindha A., Champaign, IL