The Tour de France
MAG
The Tour de France: 23 days in July, 189 riders, 2,255 miles. This is the most grueling bike race in the world. Through rain, over mountains and cobblestones, cyclists from all over the world tear through the French countryside, forming a swift human locomotive. Watching it on ESPN, the Tour might seem like a bunch of skinny guys riding bikes with skinny tires, but for those who appreciate its intricacies, the race can be as strategic as a chess match and as entertaining as a football game.

Since last summer, I have ridden for fitness, competition, pleasure and, recently, for the Lance Armstrong Foundation, which funds cancer research. With more than 1,300 miles under my belt, I've had my share of good and bad experiences. I think I understand some of the sensations the Tour riders experience every day: the burning legs that follow an all-out time trial or a sprint; the heart pounding; the get-me-to-the-finish-as-fast-possible torture. I also know the dead feeling that hits my body after riding a hundred miles. The riders of the Tour de France go through this every day.

Stage 10, July 12. After my morning bike ride, I come into the house with my helmet and bike shoes still on and watch the finale of an important day of racing. Lance is centered within a talented team of nine riders, protected from the ever-present risk of crashing. The riders in the front cut down the wind so Lance doesn't have to pedal as hard. They constantly shift positions, making sure that his every need is satisfied. One rider shuttles over to the team car to refill a water bottle, another swipes food from a feed zone to make sure the team is fuelled for the final miles. This is when the pack's pace increases and any weakness will mean being left behind.

In the early miles, Lance's main job is to conserve energy and stay upright. Occasionally, a rider from another team will make a sprint off the front of the pack, only to be caught in the final stretch after hours of all-out riding. Team Discovery's manager, Johan Bruyneel, follows behind in a Subaru stocked with bikes on the roof, parts in the trunk and an elaborate communication system. This is down time for Lance, though the speeds are hardly leisurely at 30 miles-per-hour. A mountain approaches. The group gets closer and ae

The pace quickens, even as the incline increases. The riders who have energy left after 100 mountainous miles make a dash to the top. The field breaks apart as physical limits are tested. Big name cyclists like Bobby Julich, Jan Ullrich and Ivan Basso fly up the hills. Not far behind, Lance Armstrong is anticipating his dash to the top. He paces behind a few others, using them as a barrier against the wind. The leaders inevitably tire, just enough so that Lance can close the gap. Pedals crank harder and he passes the leaders; Rasmussen and Valverde are quick to follow. They ride, one in front of the other, waiting for each to drop out. Breathtaking panoramic views extend in every direction but Lance has no time for sightseeing. He glances at his opponents, looking for signs of let up. Heavy breathing and clenched teeth tell all. It's time to break away. Lance jumps out of the saddle and powerfully churns his gears, rocking his bike back and forth. It's just him and Valverde now; Rasmussen is 50 meters back. Lactic acid flows into their muscles, filling them with an intense burning sensation.

The crowd cheers as the final stretch disappears beneath the riders' tires. In the final meters, Valverde launches a sprint and pulls ahead. Lance doesn't chase him; Valverde steals the stage and raises both hands in victory as he coasts into a mob of fans.

Lance finishes a split second later. The stage win is not important; as a group of two riders finishing, they will each be given the same time. Lance jumps into first place in the overall standings and dons the yellow jersey, worn by the race leader. Rasmussen rolls up nine seconds later, nearly falling off his bike in fatigue. Lance, going for his seventh straight victory, seems invincible; the others seem ready for a nap.

Cycling through Vermont the other day, I thought about how hard the Tour is; I would be ready for a nap, too, if I were riding over two mountains. Each hill I climb drains my legs and leaves me fatigued. Athletes in the Tour de France routinely ride hills that are much longer and steeper. Riding up at speeds that would be hard to achieve on flats, they make it look easy. Tour riders are more than great, they are exceptional. If only people my age could realize the talent of these cyclists, they might be interested in cycling. Only then could I talk about the Tour de France and be understood. Only then could my experiences actually mean something.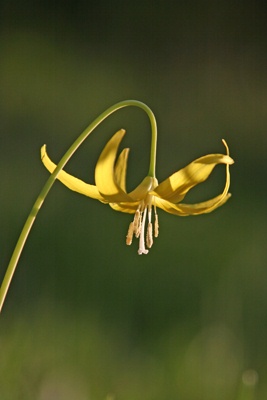 © Lucas N., Plains, MT