My Tryout Adventure
MAG
Facing aseason without a club soccer league for the first time in years, Ifrantically looked for a team. After five days of talking to coaches, Ifound two.

For the first tryout I wore my best soccer clothes tomake a good impression. Their fields were beautiful, and I soon feltcomfortable with the way I was playing. When practice was finally over,I felt confident about my performance. The coach walked up to me, said,"We'll give you a call in a week," and walked away. I wassurprised - I expected at least some kind of acknowledgment about myplaying.

A week later I went to the second tryout. The fieldswere run-down, all dirt and patches of grass. Again I dressed my best. Iwas playing well and putting on a show. I fit in with the kids, jokingaround and having a good time. When the practice ended, the coachshouted, "Great job! Well done, boys!" A compliment! That wasnice. Sure enough, though, I still had to wait a week for acall.

A week and a half later, the first coach called."Congratulations," he said. "You really impressed usduring tryouts so we selected you to be on our team." I thankedhim, hung up and rushed to tell my family the good news. Fifteen minuteslater the other coach called. I could not have been happier until Irealized I could only play for one team. I would have tochoose.

I made a list of the good and bad qualities of each teamand finally decided on the first because they were playing moretournaments and had a better reputation. The other coach wasdisappointed, but said he would keep me on the roster in case anything came up.

It turned out that the team I turned down wonthe national tournament! My team didn't win any tournaments and ishiring a new trainer. It just goes to show you should not judge a bookby its cover. I picked a team because of its reputation. I do not regretmy choice, though, because we are a good team and I've made lastingfriendships. Plus, we're going to Germany next year.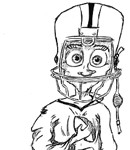 © Steve B., Hull, MA