An Unknown Sport
MAG
Stepping onto the ice, it is almost as if we are onebody. Every foot and arm moved at the same time. We were almost breathing at thesame time.

Is it the Rockettes? Is it dancing? No, it's synchronized iceskating.

When I tell people I ice-skate the first question they ask is,"Can you do a triple axle?" People don't realize there is more tofigure-skating. In addition to freestyle (jumps and spins), there are pairs, icedancing (similar to pairs, but without the jumps and spins) and synchronizedskating.

After sampling the options, I fell in love with synchronizedskating. Teams usually have 20 skaters with up to four alternates. Although 20are not required, more points are given to teams with the maximum number ofskaters, since that increases the degree of difficulty. Synchronized skatersperform a series of choreographed maneuvers, lasting three to four minutes. Teamsdo a variety of formations, such as circles, blocks and pinwheels, in perfectunison.

One of the major scoring points is unity ... same foot, sametiming, same pace. The team is also given points for speed and originality ofprogram and costume. Footwork and edge quality are also veryimportant.

Synchronized skaters are sometimes referred to as"Rockettes on ice." Watching us is like looking into a kaleidoscope andseeing the shapes change as you turn the tube.

Theultimate goal is to win a spot in the annual National Synchronized Skatingcompetition. A team must first win a top-four spot in its home sectionalcompetition.

Although synchronized skating is not yet an Olympic event, afew teams have earned the privilege of exhibiting in the 2002 Winter Olympics.

It's a lot of hard work for a sport that most people don't even knowexists. All your effort pays off, though, when you're on the ice receiving yourmedal. For me, there's no better feeling in the world. It just proves you have tolove what you do, and I definitely love synchronized skating.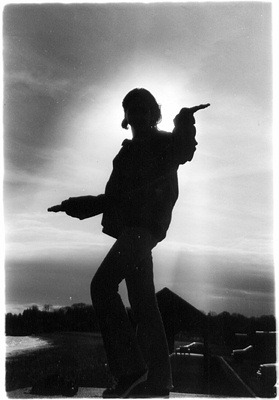 © Lena K., Marblehead, MA