Riding
MAG
A creaking door opens slowly,
Shouldering a sweet-smelling bridle,
Old andbrown.
Strolling slowly down the aisle,
Patting noses, scratchingnecks,
All these familiar faces,
Companions, old friends.
Bridlingslowly, cautiously,
Gazing into soft brown eyes.
Back down theaisle,
Hoof beats from behind,
Clunking rhythmically.
Out into the dustyarena,
And absolute quiet
Swinging up onto your horse,
No saddle, just asolid back.
Gently urge the horse forward,
Along the rail with flowingstrides,
My body falling quickly into position.
Legs gently huggingsides,
A lap around the ring,
Loosen our muscles.
Transitions, figures,trotting around,
Eager through the bit,
Feeling my horse's mouth,
Bidingmy time.
A quick nudge from my leg,
Then cantering along.
Bounding in awaltz,
Rocking with the motion.
Twice around, my legs grippingtight,
Sitting back, slowing,
Horse blowing, flanks warm,
Loose reins,neck extended,
Nose stretched to the ground.
Leaning over to pat a sweatyneck,
Stretching my back,
Legs worn out.
Peacefully exhausted.
Nosounds but muffled hoof beats,
Back swaying, swinging strides.
Sweet andeasy,
Absolute happiness.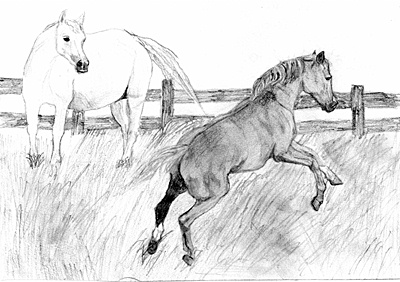 © Chelsea R., Ashland, WI