Speed and Agility
December 2, 2009
Yesterday, I had an e-mail from my soccer coach. What could it say? Was it a game! No, it was speed and agility training. I haven't been to one of those for like two months, I was going to be dead tired I thought!

So me and my dad got in his car and impatiently waited at four red lights before we got to the Silver Bowl. Once we got there, there wasn't a sign of anyone until I spotted three kids in blue, orange, and white jerseys. Yep! That was them. Then my coach found our speed and agility trainers about a mile away.

My coach was yelling at us, finally he got our attention and we hopped in the back of his track to get to the trainers when we got there we could find one more of our players, the trainers, and about a hundred cones, ladders, and rings! I thought to myself, dang this is going to be a long time. Only five guys came, so that meant we were going to have to work twice as hard and twice as long.


"Get them knees higher man!" one of the players was told while doing high knees in the rings. I heard that a couple of times in the ladders also. Once we finished the rings and ladders we did a really hard exercise. There were ten cones twenty yards apart from the staring cone. We had to sprint to each cone and back. It seems real easy, but it's not! We did two of those, which would be two football fields that we sprinted! Then in we were done at last! I was like a mutated sloth at the end of practice; I was slow and felt sick. Speed and agility is not going to be easy this year.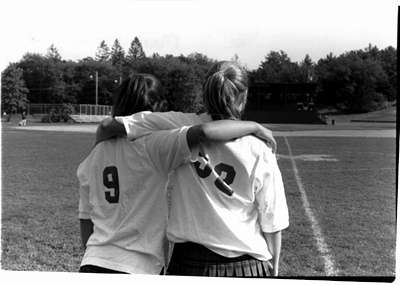 © Kelley C., Marblehead, MA