Marching Band
November 30, 2009
When I look back on my teenage years, I realize that I have participated in many different physical activities in an attempt to find personal satisfaction and pride. The courses I was required to take throughout my middle and high school career never challenged me to the point where I was proud to have completed them, so I turned to sports and other physical activities in an attempt to find something that would make me proud. I tried rock climbing on both wooden and rock walls and I found it challenging, but not very rewarding. I swam on and off throughout my childhood and, although it was one of the most intense activities I've ever taken part in, I didn't find it enjoyable or rewarding. I also ran for my school's cross-country, indoor track, and outdoor track teams, but I found running too monotonous for my taste. I wrestled on the modified level in 8th grade and I played soccer in for several years, and although I enjoyed both sports, they didn't satisfy me in the way I needed them to. I discovered Ultimate Frisbee in high school and learned to enjoy the game very much, but there are not enough high school teams in upstate New York to compete against, so it wasn't the answer to my problem either. As the years passed, I became concerned; where would I find something rewarding and difficult, yet enjoyable?
I finally found the answer in eighth grade (although I actually didn't realize I had found it until a few years later) when I was invited to join the Auburn Maroon Vanguard Marching Band. I took some time to realize that it was just the right combination of what I was searching for: an enjoyable activity with a high level of difficulty and great mental rewards. When people hear about marching band, they usually scoff, shake their heads, and wonder how in any way, shape, or form that it can be a considered a sport. At first, I responded in the same way. But then, as I spent more seasons with the band I came to a stunning realization: this sport is hard. Not the same "hard" as is usually found in other sports, where the body is only physically pushed to its limits, but "hard" in that it required very high levels of mental and physical coordination. No other sport that I've participated in comes remotely close to the difficulty of marching band in terms of mental and physical demand. In simple sports, such as track and field or swimming, one only has to concentrate on their form, the starting gun, and the limitations placed on the locations of their bodies on the track or in the pool. They have to push their bodies farther than their opponents to win. More complex sports (such as lacrosse, football, or soccer) add to the above in that one now has to coordinate the motions of their body with the movements of their teammates, and in some cases, the tool in your hand (i.e. a lacrosse stick) to beat your opponent. Once you get the hang of those sports, they are simple to play, have simple objectives, and have simple ways to achieve those objectives (score more points, touch the wall first, cross the finish line first, and so on). Marching band is simple in terms of who wins. It's the process of getting there makes it the most demanding sport in the world.
The road to a championship victory for a marching band is long and arduous and requires a great deal of motivation, time, and effort. At my high school, I devoted twenty hours a week to marching band, and that figure doesn't include the time I spent practicing alone or the time I put in before practices to help other players. Professional level marching band members, such as those involved in Drum Corps International (DCI), practice more than twelve hours every day during their summer season to attain perfection. They easily maintain metabolisms 13 to 14 times greater than their resting rate during a fifteen-minute performance and burn as much oxygen in a minute as an Olympic athlete burns in a championship race. A corps member performs it all in perfect synchronization with 134 other people while wearing stifling marching gear and playing instruments that together weigh as much as one hundred pounds. The amount of physical stamina required to move at such a high level of complexity with so much equipment during the height of summer matches any effort put forth by an Olympic athlete. The amount of mental coordination required is astounding, as is the level of physical coordination, fitness, and dedication. DCI members and most high school marching band members must pay to join a band or corps, and they are unpaid volunteers for their entire season. Payment for them comes at the end in the satisfaction of completing a long season and, if they worked hard enough, in the form of a championship ring. Could you put in that much time and effort for something with so few tangible rewards?
Let us break down an entire marching season into one small part of a show called a drill set. Visualize this: you are a marching baritone player on the field moving into a box formation with the rest of your band. You must march with perfect form, rolling your feet from heel to toe, while keeping your toes up with each new step. Every step must be perfectly equal in speed and size: you cannot take a few huge steps and then some very tiny steps (or vice versa) to the spot on the field you must go, also known as a drill spot. Your drill spots are not marked, so you must glance at your fellow marchers and make small adjustments to your step size and direction to ensure you fit in the form that the band is creating as a whole, in this case a box. You must keep your eyes on the drum major to make sure you are still marching in time while using your peripheral vision to verify your alignment with the people to your sides, but while you are doing that you must also glance diagonally to make sure you don't stick out of the formation. Check your alignment with the people in front of you; can you see the person two people ahead of you? If so, you had better correct your location before a judge sees you are out of place and penalizes you. While you are doing that, you cannot forget to maintain perfect posture and isolate the movements of your lower body from your upper body so you don't impede your ability to play. You must hold your instrument just right, about fifteen to twenty degrees above the horizon, and keep the bell of your instrument flat to the front when inside the forty-yard lines, and angled in to the drum major when outside those lines. Every note you play must be exactly the correct length, pitch, and volume, played at exactly the right moment, with exactly the right musical phrasing and articulation. Everything must be perfect. Listen to the band and make sure your sound does not stick out. If you are playing the right note, but no one else is, then you must match their note so you blend in nicely. Don't forget to breathe, or you will faint from marching around the field at 180 beats per minute (three marching steps per second) with a 25-pound marching horn that is solely supported by your left arm and shoulder. Your right arm must stabilize your horn and press three valves down in the correct combinations to produce the right note at the right time. While you grapple with manipulating your fingers, you have to remember to breathe correctly because you will ruin the musical phrase if you do not. Breathing correctly involves inhaling as much air as possible during the small breaks or rests in the music and then exhaling the air with the right speed and control to play a note. Breathe incorrectly, and not only will you play badly, you will make others play badly as they listen and try to adjust to you. You have to do all of the above for roughly fifteen minutes--the length of your show--while being judged by an audience and 12 professional judges. No pressure.
A professional drum corps or marching band is composed of unpaid volunteers who can do the above to near-perfection. I elected to be a member of the Maroon Vanguard and contribute over twenty hours a week, the same amount of time that I would put into a part time job, to something relatively unrewarding to those on the outside. It was a challenge to maintain an Olympic-level effort for at least three hours every Monday, Wednesday, and Saturday while keeping up with my schoolwork, but after the season was over, I was richly rewarded for my hard work. The Vanguard came in 2nd place at the New York State Field Band Conference Championship and to within a point of first place. On a scale of 0 to 100, with 100 being a perfect score, the Vanguard scored an 84.15. One DCI corps, The Cavaliers, made it within 85 hundredths of a point from perfection, perfection, a few years ago, while maintaining an Olympic level effort for their show.
To me, the sky-high levels of devotion, energy, focus, motivation, coordination, and difficulty are not the reasons this sport is my favorite--they're simply added bonuses. I love this sport because it is not a mainstream activity and many people laugh at any attempt to call it a sport, especially high school students. They have no idea how much effort, dedication, and motivation go into being part of a marching band and they fail to examine band members to see how hard they work to achieve an unachievable goal: perfection. In other sports, it does not matter how poorly you perform as long as you beat your opponent. In school, you can get a 70% and still pass a course. But in marching band, you have to aim for perfection every single time, you have to be able to put out an Olympic level effort for an entire season, and you have to do better than your best every time. It's extremely difficult, challenging, exhausting, rewarding, and satisfying and I am proud to know that I can match an Olympian's effort every Monday, Wednesday, and Saturday of my life from the beginning of August to the end of October.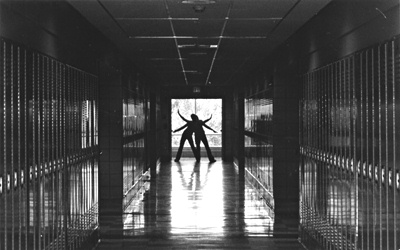 © Sheera G., Marblehead, MA