Sister's Don't Need Words
November 17, 2009
Why did it happen to me; just me? It was a day I would never forget. The world appeared as if it finally had a purpose. I never saw it coming, and thought this would never happen, but it did.
"Larissa! Larissa!" This is all I heard, voices coming from every direction. It was the day that I was able to compete along with my sister, Jaimee, in my first varsity basketball game. It was my older sister's possible last varsity game as she had become a graduating senior in high school. If we won, we would continue to play, however if we lost, it was the end of the windy road. This was a dramatic experience for me. I was only in the eighth grade at the time playing on a varsity basketball court.

My hands began to tremble as I started to hold a grasp on my warm-up shirt and take it off. I had to do this quickly, as if I didn't, the coaches might change their minds. But I don't want to go in. I don't want to go in by myself. Jaimee is out and I don't know what I'm going to do without her. I questioned myself as I started thinking about a scenario of tripping, falling, and humiliating myself directly in front of hundreds of people, including my entire family. Jaimee had previously gone down in the game with an ankle injury, and was now not even on the bench. She was taken by the athletic trainer to have her foot looked at.
"Good luck, you can do it," my friend stated as I was on my way to where the coaches were sitting. My family began to cheer loudly. It was nearly halftime in this section game, our last possibly.

"We need you to have confidence in yourself, and we need another point guard to take the ball down the court," the head coach pointed out. "We need you to have pride and do the deeply best you can do on defense." I knew that I was better at offense than defense, but I would give it the best I could, exactly as I was told. "Get up in their face as much as you can, and don't let them get an easy shot. Do whatever you can. Therefore, I need to know. Are you ready to play?" The coach questioned me seriously.

"Yes, I am ready to play." This is all I could get out of my mouth, as I didn't believe what was happening. I could barely take in the complete information they had given me in the thirty second period. Finally, I was jolted in front of a sign that read: 'Papa Johns; Better Ingredients, Better Pizza: Call 651-545-8989'. Where am I? I turned around and I saw the floor view of the basketball game. I quickly turned back towards the sign and looked up. Yes, there I was, on the floor ready to enter my first varsity basketball game. Nervous as I was, I managed to turn my dizzy head to the left and see my older sister.

I could still see that she was by the athletic trainer and she also had her left foot on ice. She was watching the basketball game, as it was extremely intense. We were losing, but only down by a couple of points. Jaimee glanced around and we met eye to eye. She jumped from her seat, threw on her left shoe and bolted toward me. She came to a halt by the coaches. What is she doing? I asked myself. Then I looked up at the scoreboard. "Nnnnnnnn," it was the end of the first half in this wild game.

"Are you going in?" One of the older girls asked me as we were walking to our halftime locker room.

"Yeah, I guess. I'm so scared though!"

"Oh my gosh! Congratulations! Don't be scared. You will do amazing, I know it."

"Thanks. I hope I do too." I was walking with a pale face and a little half smile, but relieved to know that I wasn't going to have to go in right away.

We came out of the locker room shortly after we had gotten some feedback about the game. I wasn't going to start the half, but knew that I had to be ready for when they would put me in. Once again, I sat back on the bench with my three fellow teammates. We three were the only ones who were chosen to sit the varsity bench from our lower level team. Previously, we all had been on the B-squad team and this was our first time on the varsity bench.

The second half started and I watched the game closely to know what was happening when I was to get in. I was summoned by the coaches as they were considering placing me into the game. About three minutes into the half, I was thrown by my baggy white and green jersey to the same place I was thrown before. This was by the Papa Johns pizza sign, the place where substitute players wait to go into the game.
"Go in for Katya," my coach stated as he was looking on the court.

"Okay," I quietly mumbled. The sound of the referee's whistle blew, like the horn of a freight train. I rushed onto the court calling off Katya. We were currently on defense. I can do it, I know I can. I thought again. The opposing team's point guard was now strolling down the court as I was prepared to face her. Their offense cycled through and we soon got control of the ball.

"Holly!" I looked down the court and saw my sister substituting in for Holly. Yes, I am not alone! I'm so glad my sister's in the game. I dribbled down the court and passed the ball over to my sister. I played with her throughout the rest of the second half with minimal rest breaks for my sister or myself.

It was the first time in many years that I was brought together to play with my sister again. She will always be there to support me and will do anything she can to show her love for me, as I do the same. I learned from this event that even though times are rough with sisters, we still get through those times and do deeply care for each other. It was greatly joyful to have been playing with her for the first time in many years and it was amazing; the joy of being together as sister's, doing something we both love to do. "Nnnnnnnn!" The buzzer rang again as it marked the end of the windy road. Everybody on the court, especially seniors, started bawling. Although it was hard, I managed to place my arm around my sister comforting her as we walked off the court together.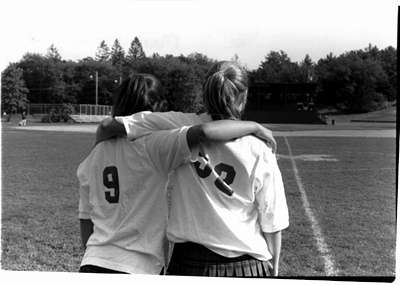 © Kelley C., Marblehead, MA