The love of cheerleading
October 19, 2009
The love of
Cheerleading.

My sweaty palms fill up into a slippery, buttery mess and excitement rushes

through my body

I overlook the crowd, cheering and hooting throughout the whole stadium- cheerleading

is like a fantasy, a whole other world that you enter and never want to come out of-with

me being a flyer is completely different-I feel like I'm on top of the world. Standing up

there pumps the adrenaline through my veins, the soft subtle breeze cools off my sweat,

and grin sweeps my face. Now, standing up there not only is full of excitement, but flying

gives you the energy of a 200 watt light bulb. Down, up, pop! My feet lift off of a grip,

my

arms solitude against my chest, my eyes securely glued shut-it feels like I'm up there for

an eternity! I squeeze my fists together and I fall into eager arms, waiting to be released, I

try to loosen my stiffened legs and undig my nails out of the craters they created. With

luck, I fall into a tumbling kart-wheel and the whole thing is over. The crowd jumping

and hollering in pleasure and flashing lights shuttering in every corner of the stadium. My

heart skips a beat, and sighs of relief escape my heavy breathe. Cheerleading isn't a game

or word that should make you think of girls in short skirts-cheerleading gives you the

feeling of winning a million dollars. I couldn't imagine doing anything better!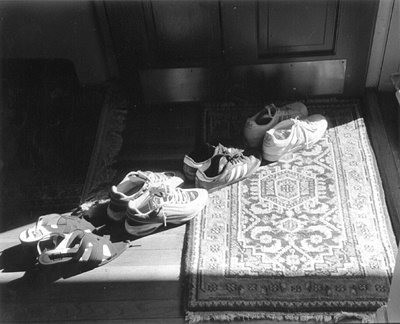 © Caite P., Marblehead, MA