The Big Game
May 30, 2009
The counter read 5:41, but I could barely see it through the sweat that was dripping into my eyes cascading down my face like a waterfall. Although it was actually pretty cold outside, the sun reflected off of my bright orange field hockey stick, making it sparkle. I was playing defense, watching my team fight for the ball on the opposite side of the field. I was on the orange team and we were undefeated. 'Uh, oh,' I thought. The blue team had the ball, and were rushing right to me. We were playing without a goalie, so it was all up to me.

It was as if we were in slow motion. Suddenly, the concepts of field hockey that the coaches had droned on and on about started to all come in handy. Run, slide, bump. Run, slide, bump. The best player on the blue team had the ball, and she was nearly two inches away from me when the action started. My stick smacked into hers, creating a deafening noise. By the contemplative look on my coach's face, I could tell how hard she was thinking about my performance. Since my full attention wasn't on the ball, I lost it. The girl pushed past me, scoring a perfect goal.

I couldn't believe that I could let that slide. But, I thought, I had to stay in the game. I had a distorted vision of the rest of my team through all the sweat that had dripped into my eyes. I thought that I saw us scoring a goal, but I couldn't be quite sure. My heart leaped with joy when I heard my team cheering and screaming, "We did it!" The buzzer went off. My whole team ran toward our bleachers and huddled up. Our pungent smell made it a little more unpleasant, but nobody really cared. The other team screamed out in fury, but it didn't mean anything to us. We had won, and yet we were a good team, and that was all that mattered.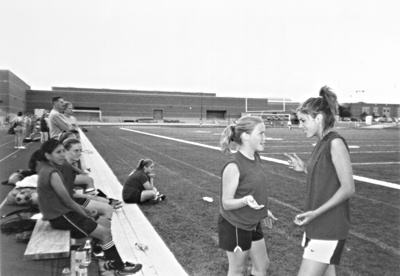 © Katlyn B., Highland Village, TX