The Concept of Captains in Football
June 3, 2019
Football is an easy game; 20 people kicking a leather ball around a pitch and trying to put it in a net guarded by two goalkeepers, one per team. Simple right? Wrong! There's so much more to football than the players trying to score goals, and goalkeepers trying to stop the ball from going into the net. There are different parts to the game and people of the game that make it work, there's tactics, roles, and management, we will focus on one role of the game in this essay which is a captain.
What does it mean to be a captain? The captain, is normally someone with a lot of experience, meaning they tend to be older, and have been at the club for a while. The captain is a good motivator and leader, Oxford dictionary defines leadership as 'The action of leading a group of people or an organisation.' ("Leadership | Definition Of Leadership In English By Oxford Dictionaries"). Before the match and at half time in the dressing room, the captain and the manager will give talks to motivate the players for the match, when a team concedes a goal, it's the duty of the Captain to motivate the players making sure they don't give up, same thing when the team scores a goal, the captain is responsible to make sure the players keep together, and don't lose concentration. The captain acts as the middleman between the players and the referee; when a player commits a foul, the referee will call over the captain to calm the player down, and explain why he's given a card, as well as that, if the two teams break into a fight, the captains of both teams are responsible to calm their respective team down. Despite all this, FIFA only state one official rule for captains, which is to participate in the coin toss before the match ("Captain (Association Football)").
There's no right way to be a captain, in fact, some do their duties in very different ways, a good example of this is Roy Keane compared to Chelsea captain John Terry. Roy Keane was much more aggressive than Terry. Gary Neville, who played under Keane while Keane was captain said he was 'the best captain you could ever have.' Keane would never shy away from a fight, if any of his teammates were threatened he would be happy to have a fight with the people responsible, for example, Gary Neville was picked on by Arsenal captain Patrick Vieira, and Keane confronted him, and it caused chaos in the tunnel and the referee had to calm things down. You always would've felt safe under Keane, and he was aggressive, but he was a great Captain who earned his side four Premier League titles, two FA Cups, and one Intercontinental cup ("Roy Keane", Cox, Neville).
John Terry, on the other hand, was a much different character. In an interview for the magazine FourFourTwo, Terry said you need to know your team-mates so you know how to motivate them, he said 'I could give a kick up the backside and get a good response. Then there are others who need an arm round them.' He also said that players can criticise you and you have to 'take it on the chin and get on with it,' in contrast to Roy Keane, who was the boss and you have full respect to him, and don't question him (Welch, "Roy Keane"). John Terry was good at calming things down, a good attribute to have as a captain, instead of joining in the fight, he would try to calm things down, for example, against PSG, a fight broke out, Terry tried to cool things down between the sets of players, he got pushed around, but didn't use violence and tried to talk with the players. His style of captaincy was very different to Keane but he still had a successful career winning five Premier League titles, four FA Cups, three League Cups, one UEFA Europa League and one UEFA Champions League ("John Terry").
In conclusion, the concept of Captaincy is an interesting one, as there is no one method to been a good captain, and how much influence the captain has on the team is down to the manager/head coach in charge who delegates the roles to their Captain. Both John Terry and Roy Keane were very different captains, but both delivered a lot of success to their respective clubs, and were the perfect leader for their team. There are so many other great Captains who delivered a lot of success; such as Gary Neville, Patrick Vieira, Billy Bremner, Steven Gerrard, and many more, and they all have their individual styles like Keane and Terry.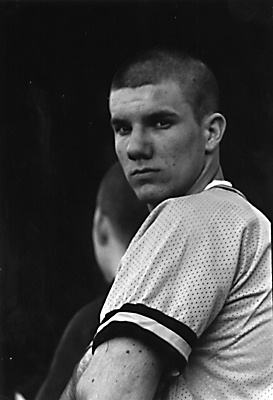 © Chris C., Milford, CT